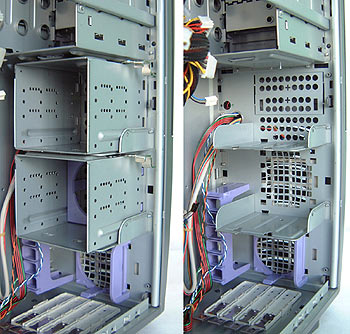 Maintaining control over who can and can't gain access to the computer hardware is both a blessing and a weak point of the Antec 1080AMG. The side lock which prevents users from removing the side panel works well enough, but the front lock on the 5.25" drive bay cover is pretty much useless. The lock on this swing out panel is located at the lower corner and doesn't do much to hold the door closed.

The front door does a nice job of keeping the case appearance clean and streamline, and the activity LED's are still visible through it, while the power and reset switches are not.

The power button on this improved version of the SX1030B is a nice and shinny silver, and unfortunately the reset switch is still recessed a little too much for my taste. Personally, I prefer reset buttons you can actually engage with your fingers, but I understand it is also useful to not have them protected against inadvertent use. The reset button is small, and flush to the bezel so you're not going to be able to hit if you blindly feeling around for the power button.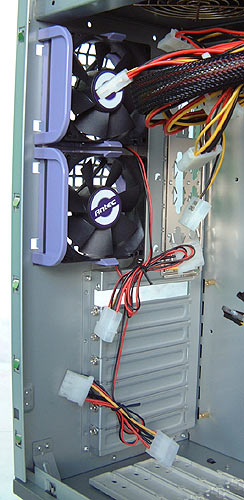 Next to these two power controls are a series of LED's - one for power and HDD activity, and then two alternate buttons for whatever you want.

Rounding out the other little features that might go unnoticed are four fold-out feet for added stability, an interchangeable I/O plate socket, quick change fan holders, a large front panel vent with washable foam filter, two included fans with Molex passthru power cables, and a nice rounded edges everywhere (no danger of cut fingers).

The Antec Plus 1080AMG is an improvement on the older SX1030B in few areas, most especially concerning the front bezel. The metallic grey plaint job gives the case a cool look, and the accessible and strong build of the case have made it a favorite around here.

The edges of all the punched out sheet metal are folded over so there is little chance of slicing a finger which installing your computer. The 5.25" bay knockouts were surprisingly easy to remove, and in general, the case is just well thought out.

There are a few down sides to the case, but none of them are really permanent. Installing expansion cards can be a little tricky if the screwdriver isn't long enough, and I think electric screwdrivers are pretty much ruled out altogether.

Noise can be a big factor with the Antec Plus 1080AMG. With all the possible case fans installed, you have one heck of a wind tunnel. Antec only supply three case fans which the unit, and I'd really shy away from adding any more even though it may be tempting. The most important thing you could do would be to install them so that the rear fans exhaust, and the front fans intake. If you flip around the rear case fans so they blow in (with the idea that they will help cool the processor down) you might be in store for a couple of problems noise wise.

I've added layer of acoustic insulating melamine foam to the older SX1030B in order to quell the level of noise it creates with a Pentium 4 inside, and this helped out tremendously. The Antec Plus 1080AMG is really no different on the inside, and with all the room, it is really well suited to a little soundproofing.

The 1mm thick sheet steel doesn't rattle around at all, but it is hard to say if it doesn't amplify the internal sounds to some extent. All things considered, the Antec Plus 1080AMG is a really nice case; it's well built, it looks professional, and it will last for a long time. Standard white box cases may be less expensive, but they tend to rust out, or gradually yellow in direct sunlight.

To read our two reviews where sound proofing material was applied to this type of, please see Melamine Foam Sound Proofing for the Computer Case and Noisecontrol Magic Fleece Sound Absorbing Material.