Antec Plus 1080AMG File Server Case
---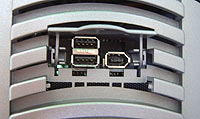 Computer cases used to be the last thing on everyone's shopping list, and then something changed - case modding brought about a resurgence in design and case style. Now it's possible to buy pre-modded cases and even all aluminum cases filled with blinking lights. In this situation, the case is designed to look professional, and be exceptionally functional. The Antec 1080AMG is an updated model of an old standby - the SX1030B and the face lift is well worth it.

The new Antec Plus 1080AMG as it is formally called, comes with a coat of metallic grey paint, and features a hexagonal side blowhole and USB/Firewire ports up front. Add to that a few other minor refinements and you'll be left wondering why you ever decided to go for a bland "white box."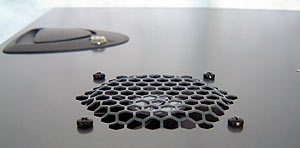 Putting aside the new bezel for just a moment, the two major changes which stick out are the side panel fan, and a new hidden door on the front. The side mounted fan pulls air into the case to help keep things like sound cards, and graphics adaptors in a steady stream of air. The twin rear mounted exhaust fans are still in place to help exhaust that air as well.
The other major addition are three ports hidden under a small flap at the front of the case. In this space are two USB connectors which can be hooked up to any motherboard for either USB1.1 or USB 2.0 support. Adjacent to the USB ports is a single IEEE1394 jack which is great for devices like digital video cameras, or even external hard drives.
The specs for the Antec Plus 1080AMG are as follows; the enclosure measures roughly 12" x 8" x 19" and comes with (4) 5.25" bays, (2) 3.5" floppy bays and (4) 3.5" HDD bays. You'll be hard pressed to fill all ten bays with devices, but it's nice to know there is plenty of room to spare.
There is no removable motherboard tray so motherboard installation means dropping in the board and fiddling around in a slightly less spacious environment. With the 3.5" drive bay caddies out this really isn't very difficult though. The case is the right size for any ATX compatible motherboard (P4, AMD, Xeon) and comes pre-stocked with a nice 430W Antec TruePower powersupply.
Did I mention that this case has lots of fans? Well, it does; five 80mm fans in fact. Two fan spots are located just behind the processor, one on the side panel, and two up front (one in the HDD caddy, the other at the base acting as an intake). A washable filter of basically open celled foam is sandwiched between the front bezel and the metal frame to keep dust down as much as possible. With the side intake fan under power, this filter is circumvented though.