---
I often get e-mails from readers asking me how to increase their 3DMark score or tweak their computer to be faster. Today I'm going to be spilling my guts about how I got 18608 3DMarks with a relatively slow system. First here are the complete system spec's.
PCStats Test System Specs:

Computer Hardware:

Processor:

Pentium 4 2.66 GHz

Clock Speed:

20 x 133 = 2.66 GHz

20 x 158 = 3.17 GHz

Motherboards:
Abit BG7*
Chipset:
Intel i845G
Videocard:

Albatron GeForce4 Ti4200P Turbo**

Memory:

256MB GeIL PC3500

Hard Drive:
40GB Maxtor D740X
CDROM:
NEC 52x CD-ROM
Floppy:

Panasonic 1.44MB Floppy Drive

Heatsink:
Thermalright AX-478 w/ 84 CFM Sunon Fan
PowerSupply:
Enermax 550W
Software Setup
WindowsXP Build 2600
Intel INF 4.00
Detonator 40.52***
Riva Tuner
Benchmarks

3DMark2001SE
* - BG7 defaults memory timings to 266 MHz mode while running 133 MHz FSB.
** - Albatron Ti4200P Turbo has a 250/550 default clock speed.
*** - From personal experience I find the Detonator 40.52's the fastest. Other nVIDIA drivers may be faster for your system.
After a fresh install of WindowsXP Professional with a completely stock, non-tweaked system, we score a measly...
11.6k at default looks a bit low for the system setup, but if that's what we get that's what we get. Remember, fresh install with zero tweaks.
Now I'm going to reboot the computer so I can go into the BIOS. There, I change the memory timings from 2.5-7-3-3 (CAS Latency - Act To Precharge Delay - RAS To CAS Delay - RAS Precharge) which are SPD settings to 2-6*-2-2 and I enabled Enhance DRAM Performance. *setting the Act To Precharge Delay to 5 can cause severe stability problems if your memory is not high quality.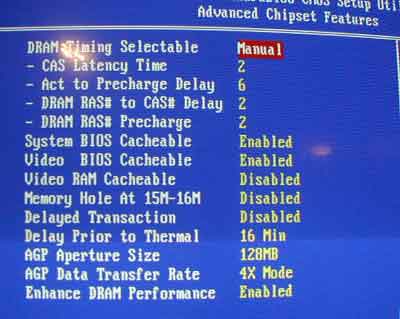 There's a picture so you can see what BIOS memory timings look like. They're may be arranged in different orders depending on what motherboard you're using. In general, you want all the settings (numbers) to be at the lowest value.