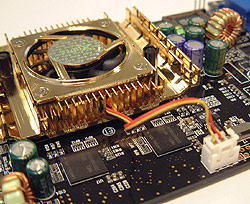 SiS have done very well with the Xabre600 videocard. On average it's faster then it's main competition the GeForce MX440-8X, and where the Xabre600 does lose it's a driver issue. Newer drivers should be able to unlock the Xabre600's full potential.
Set to take over the mainstream videocard market from the aging 8XAGP Xabre400, the Xabre600 videocard should be quite affordable, most likely costing less than 140 CDN ($100 USD).
Even though SiS still have some work to do with their drivers, we're glad that we didn't see any image abnormalities while testing the Xabre600. When we reviewed the ECS Xabre400 we did encounter the odd image abnormality during testing.
SIS have introduced a slew of new Xmart Technologies, and of those XmartDrive is probably the most intriguing because it slows down the GPU when working with 2D applications. This saves energy, cuts down on heat production and should prolong the lifespan of the videocard in the longrun. The new Xminator-II drivers work quite well; bringing D3D Performance vs. Quality, OpenGL Texture Quality, Disable V-Sync, and Force 16-bit Z Format options to the table which were otherwise absent with the Xminator-I drivers.
Performance of the Xabre600 itself on average was very good for its class. There were a few benchmarks where the Xabre600 produced slightly lower than expected results, namely UT2003 and Comanche 4, however I would hazard a guess and say this is most likely due to driver issues.
Since the Xabre600's Vertexlizer Engine is CPU dependant performance will greatly depend on the computers speed. While this also means that performance can increase as you upgrade your computer over time, it would be well worth it to use at least a 1.8GHz or 2.0GHz Pentium 4 processor with the Xabre600.
Bottom line? The SiS Xabre600 is a great mainstream 8XAGP videocard that has a ton of potential for the budget-minded gamer. It is DirectX 8.1 compatible so it is more future proof then the GeForce4 MX440-8X, uses Pixel Shader 1.3, and is fully 8XAGP compliant of course. With quad 3D pipes and a 300MHz Core / 300MHz memory clock the Xabre600 has a lot going for it compared to its main rivals the MX440-8X and Radeon 9000 Pro. Hopefully SiS can get the Xabre600 out to the retail markets quickly, and without any of the importing issues they faced in the past.
Related Articles You Should Read:
Here are a few other articles that you might enjoy as well...