SiS Xabre600 Reference Videocard Review
---
When SiS released the Xabre400 GPU earlier this year, it was a huge step forward for budget-minded gamers. Today SiS officially releases the Xabre600 GPU which is basically a shrunken, beefed up version of the original Xabre400.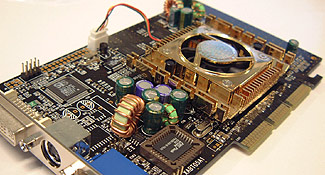 Based on a 0.13 micron technology core running at 300 MHz the new Xabre600 is an evolutionary advancement of the older 250 MHz 0.15 micron process, Xabre400 core.
The Xabre600 reference card we are examining is backed up with 64MB of DDR memory. The memory is made by Hynix and runs in sync with the GPU at 300 MHz - what SiS call the "Duo300".
The Xabre600 boasts Pro8x8, so like it's predecessor, it is both DirectX8 compatible and 8x AGP compatible. DirectX 8 compatibility means that games which take advantage of the Xabre's pixel shaders should look more vibrant and lifelike. Whereas, 8x AGP effectively doubles the bandwidth available on the AGP bus to the videocard.
With 8X AGP compatible motherboards, bandwidth will increase from 1.06 GB/s (4xAGP) to 2.1 GB/s, so in theory it should boost performance because the videocard can compute more data. So far though, we haven't seen much of a performance boost from any manufacturers 8X AGP solution.
SiS implement a few new features with the Xabre600 GPU that should make it standout in the sea of mainstream videocards. The first of which to catch our eye is something called the "Vertexlizer Engine," but the XmartAGP, XmartVision and XmartDrive technologies are also important.
| | |
| --- | --- |
| Xabre600 Technology | |
| XmartDrive | Automatically senses and adjusts system speed for 3D environments by 10-50MHz. |
| XmartVision | Automatically senses and adjusts light for 3D applications. Basically, RGB signal strength is adjusted from 700mV to 800mV in 3D applications for a sharper picture signal. |
| XmartPower | Controls fan speed based on applications running, with higher RPM's for 3D applications to increase cooling. |
| XmartAGP | Automatically adjusts card to 8X, 4X, 2X AGP based on performance criteria with host machine. 8X AGP has the best signal strength, and thus image quality of the thee standards. |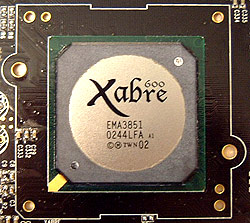 In laymens terms the Vertexlizer Engine is a hardware and software based solution which "increases efficiency while reducing GPU loading." Essentially, the hardware part of the Vertexlizer Engine (about 30%) resides on the GPU, and the software side makes use of the computers own processor (about 70%) to offload work.
To underline this point, the Xabre600 is fairly CPU dependent, but as you upgrade your processor the performance of the card is also increased. The reverse is true of course, but to put things in perspective, if the computer is based on a 1.8GHz Pentium 4 processor you should see performance on the level of a GeForce MX440-8X. A 2.0GHz P4 will bring performance levels to the scale of an ATI Radeon 9000 Pro, and a 2.8GHz P4 yields performance on the scale of an Nvidia GeForce 4 Ti4200 videocard according to SiS.
Basically, the Xabre600 seems to benefit from a 10% performance gain in vertex shading for ever 200-250MHz CPU power. This CPU dependency is not necessarily a bad thing as DirectX can use CPU resources to emulate Vertex Shaders without much of a noticeable performance hit. SiS introduced this hardware optimized Vertexlizer Engine as a best-fit scenario, and also to keep the card as affordable as possible. Less transistors on the core translate into higher yields, lower electrical requirements, and better thermals.
SiS' XmartDrive feature is actually quite an ingenious! When working with 2D based applications, the Xabre600 will automatically throttle down the clock speed by anywhere from 10-50MHz, and when the computer loads up a 3D application it will raise the core speed back up to stock levels. This results in a power saving, and helps to prolong the lifespan of the videocard.
The power savings we mentioned may not be significant for a desktop computer, but SiS tell us they plan on launching the Xabre600 into the mobile GPU markets where power consumption is a major point.