Abstract: Fujifilm must have been looking towards style conscious consumers when they designed the F402 because it is endowed with more sex appeal than a digital camera really ought to have.
81% Rating:
Home > Reviews > Digital Cameras > FujiFilm FinePix F402
| | |
| --- | --- |
| Fujifilm FinePix F402 Digital Camera Review | |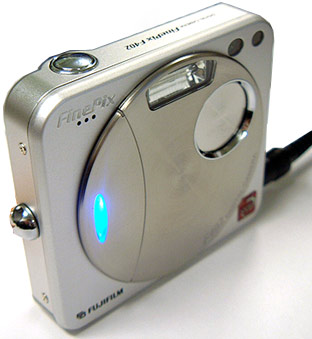 The cool blue power switch light glows brightly when the Fujifilm F402 is charging up (as it is now), and for a few moments when the digital camera is powered up, or transferring files via USB cable to a MAC or PC. Expect to pay between $290-$350USD for this fella.
Fujifilm must have been looking towards style conscious consumers when they designed the F402 because it is endowed with more sex appeal than a digital camera really ought to have. If this aluminum camera and its' little blue light don't scream "James Bond spy toy" to you I don't know what does...
It goes without saying that this is a camera for regular folks - it is fully point and shoot ready, and small enough to fit into any pocket so it can be effortlessly carried around. To turn on the F402, you pull back on the little part of the metal circle shown to the left. The motor-driven lens pops out from behind the protective cover, and then it's simply a matter of framing the shot through the LCD or optical viewfinders, and pressing the shutter release. Easy as pie.
Since the lens hides away in the camera body there is no lens cap to worry about, and no chance of the lens itself getting snapped off by rough handling. From startup to picture taking, the wait is no more than 2 seconds.
On top of the built-in ease of use, the Finepix F402 has a good set of features which include the ability to record short AVI film clips with sound, a built-in red-eye reduction flash, optical & LCD viewfinders and a USB interface for downloading to the computer.
Two examples of macro and scenery shots with the F402. Click the imgaes to view the full sized versions.
The camera itself stores photos on NAND-type flash memory, by you won't find SmartMedia or Compact Flash in this little guy - believe it or not, those types of media are just too large in size.
The Fujifilm F402 uses a new type of flash-memory called the "xD-Picture Card" or just "xD" for short. I'll pause for a moment for the collective groan from those of you with comprehensive flash memory collections already - and pick up by mentioning that the postage stamp-sized xD modules are road mapped to 512MB in 2003. We'll get into all the xD Picture Card details next, but first lets see what else the F402 has to offer.
The FujiFilm FinePix F402 is a very tiny digital camera - it fits in the palm of a hand and weighs in at a measly 145 grams with battery. Yet in spite of its size the controls are still manageable to a person with big fingers. Within the 3" x 2.7" x 0.9" aluminum chassis is a 2.1 MegaPixel 3RD generation SuperCCD sensor which translates images into 4 million effective pixels.
The technology behind Fujifilms' Super CCD revolves around how the CCD sensor is constructed, and how the octagonal photodiodes themselves are oriented in a honeycomb pattern.
The octagonal shape is more efficient at capturing light, and thus produces a stronger electrical charge in the pixels, yielding higher sensitivity. The honeycomb structure is significant in that the spaces between the photodiodes are smaller than with other technologies. With less space between the sensors, there is improved resolution, and hence better image representation. That is why we see a doubling up of actual pixels to "effective pixels" in the marketing spec sheets.
Effective pixels are representative of a standard CCD sensor with about twice as many actual pixels for the most part, but opinions will differ person to person. In any case, Fujifilm don't try to pass off the FinePix F402 as anything other than a 2.1 MegaPixel camera.
Armed with a (f= 6mm 1:3.2) Super Fujinon lens with 3.6x digital zoom and a maximum resolution of 2304x1728 pixels, the FinePix F402 retails for approx. $350USD and comes with a 16MB xD flash card, AC adaptor, USB cable, lanyard, and 130 page instruction booklet.
xD-Picture Card: A new flash memory format

The FinePix F402 uses a new type of flash memory called xD-Piture Card. The module is about the size of a postage stamp and is roadmapped to 256MB in early 2003, and anywhere between 512MB - 8GB thereafter. A joint venture between Fuji Photo Film and Olympus Optical, the "eXtreme Digital " media is manufactured by Toshiba and lists a read speed of 5MB/s.

Write speeds for 16MB/32MB cards sit at 1.3MB/s, and for 64MB+ cards that increases to 3MB/s. Power consumption is just 25mW so the xD-Picture card is easy on the batteries. xD-Picture Cards run about $40-50USD for 64MB modules, and since the F402 only comes with a 16MB card, this is something you'll want to upgrade right away.
SEARCH PCSTATS

---

Use the power of Google to search all of PCSTATS and the PCSTATS Forums. Tell us what you think of this new feature - FEEDBACK?