Albatron PX845PE Pro II Motherboard Review
---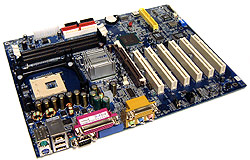 Albatron have been producing a lot of motherboards and videocards since they were created earlier this year. In this relatively short time, they have earned themselves a much deserved reputation for high quality, overclockability, innovation. For example, if you consider how the Albatron GeForce4 Ti4200P Turbo has taken the web by storm, winning an award from us even, you can see that if this company keeps on the same track they are going to go far.
To be realistic, motherboards just don't have as much "sex appeal" as videocards, but Albatron have still managed to take home a slew of awards from around the web for their boards. As we look at the new PX845PE Pro II, it will be with a measure of expectation to see if the previous trends are maintained.
The PX845PE Pro II is based on the very popular i845PE chipset and can run any Socket m478 400/533 MHz based Pentium 4. With three DIMM slots the motherboard can support a maximum of 2GB worth of PC1600/2100/2700 DDR memory.
Like most other motherboards in its class, the Albatron PX845PE Pro II is very well equipped. It has two on board Serial ATA ports, IDE RAID, Intel 10/100 LAN, dual bios's and of course 5.1 audio.
If that's not enough for you, expanding the motherboard should be a fairly easy task with the six PCI slots to choose from. There is a 4X AGP (1.5V cards only) slot with a sliding lock to secure those precious videocards too. The sliding lock that Albatron employs with their boards is much better then those simple AGP tab locks on most other boards, and works well to keep the card seated properly in situations where the case might be poorly made, or bumped hard during transit.
Albatron PX845PE Pro II

Ships with the following:

2x IDE ATA66/100 Cable
FDD Cable
Driver CD
DIY Installation Guide
RAID Manual
RAID Driver Disk
User Manual
USB Cable
Overclocking Guide
Style plays a key role in today's computer peripherals and the PX845PE Pro II uses a nice blue PCB. Like the few other Albatron motherboards we've seen in the past, the PX845PE Pro II is well laid out.
I really do like seeing boards where the manufacturers place the IDE/floppy and main ATX power connectors to the right of the DIMM slots. In that location, cables don't tend to get in the way of other devices in the computer, or block ventilation intake fans.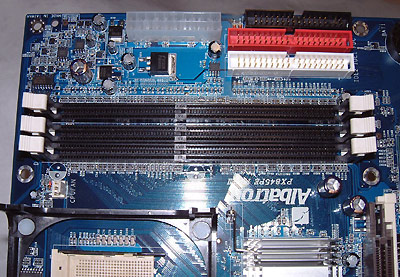 I'm always happy to see manufacturers do the little things right. For instance, installing the front panel LED's is a snap thanks to the well labelled connectors. If you want to clear the CMOS or want to install the SPDIF header it's very simple because everything is labeled clearly. It's very easy to access all three fan headers on the PX845PE Pro II - you'd be amazed at how many motherboards in the past that we've tested that have these same headers hidden, or in some odd location on the board.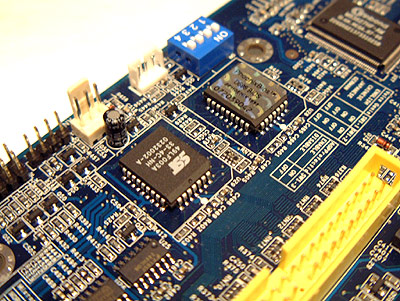 While I have never had any problems flashing BIOS's before, I have heard quite a number of horror stories. Albatron takes away the risk of flashing BIOS's with their dual BIOS chips. If something were to go wrong, the backup BIOS will load and you can just try again.
This is a very nifty feature and I wish more other manufacturers would implement it because peace of mind is very reassuring.
Like all things in life though, the board is not perfect. Probably my biggest qualm with the PX845PE Pro II is the location of the USB headers. Placed directly under the AGP slot, the USB header cables will have to run in front of the videocard's HSF. With high performance videocards like the Radeon 9700 Pro generating so much heat, you'd hate to obstruct the fan's air supply with cables.
The next few things are very minor, but they did "irk" me a bit. The look and feel of the PX845PE Pro II is of quality however I don't understand why Albatron keeps equipping their boards with AC'97 codec.
AC'97 is not really that good, almost all users will end up purchasing a hardware based PCI soundcard if they want decent sound and freed up system resources.
The placement of Serial ATA channel 1 is in a bad location right next to PCI slot 4. You may not have an east time using longer PCI card like even the SB Live! or TV Tuner cards in that slot. I guess I'm being very picky however, because there are five other PCI's which aren't blocked. Lastly is the "Voice Genie" is a neat concept, but the novelty wears off quickly, and after it's just annoying.