NVidia Ti4200-8XAGP Videocard Roundup
---
When ATi and SiS released videocards supporting 8X AGP technology, nVIDIA's GeForce4 line of GPU's immediately seemed out of date somehow. Even though the nVidia-based video cards are far from being slow performers, nVIDIA heard the call from consumers, and did some quick work to bring the Ti4200 GPU's up to AGP 3.0 specs.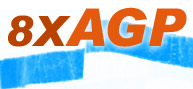 AGP 3.0 specs a.k.a 8X AGP doubles the available bandwidth between the videocard and the system from 1.06 GB/s to 2.1 GB/s. This means that during instances where there are a lot of polygons and textures on the screen (for example), more data can sent to the videocard to be computed. In theory, 8X AGP should translate into a big performance increase; especially in videocard intensive tests like 3DMark and CodeCreatures. As we saw in our Albatron GeForce4 Ti4680P Turbo review, the performance increase isn't quite there.
This performance conundrum may just be isolated to the GeForce4 line of cards, since we have witnessed a benchmarkable difference when using ATI's Radeon 9700 Pro (it is also 8X AGP compliant). It seems that the "band-aid" 8X AGP fix for the GeForce4 has largely been for the benefit of marketing, but in the absence of NV30, there aren't many other options to consider.
Today we'll be checking out four brandname videocards that come packing the new and "improved" GeForce4 Ti4200 core with 8X AGP compliance. The cards that we're looking at today will be the Abit Siluro GF4 Ti4200-8x OTES, Albatron GeForce4 Ti4280P, MSI Ti4200-TD8X64 and the Prolink PixelView GeForce4 Ti4200-8x.
Some of these videocards are built for specifically for overclockers, some for budget minded consumers, but they all have a common core so let's see how they stack up against one another!
video card comparisons
Abit GF4 Ti4200-8x OTES
Albatron GeForce4 Ti4280PV
MSI Ti4200-TD8X64
Prolink PixelView GeForce4 Ti4200-8x

GPU:

GeForce4 Ti4200 w/8x AGP

GeForce4 Ti4200 w/8x AGP

GeForce4 Ti4200 w/8x AGP

GeForce4 Ti4200 w/8x AGP

Core Speed:

275 MHz

250 MHz

250 MHz

250 MHz

Memory Size:

128 MB

128 MB

64MB

64MB

Memory Speed:

500 MHz

513 MHz

513 MHz

566 MHz

Memory RAMSinks:

No

No

Yes

Yes

Manufacturer:

Price:

Extras:

DVI, S-Video Out, OTES Cooling, 2 Demo's and America's Army
DVI, VIVO, Serious Sam, Motocross Racer
DVI, S-Video Output, FarStone's Virtual Drive and Restore It software, InterVideo WinDVD 5.1, InterVideo WinProducer / WinCoder, a seven demo CD, Morrowind, Duke Nukem Manhattan Project, Ghost Recon.
S-Video Output, WinDVD, Codename: Outbreak, Ballistics
We'll be touching on each of these cards as we progress, but as you can see, all four cards use basically the same nVIDIA GeForce4 Ti4200 reference design. Only one of the cards, the Albatron GeForce4 Ti4280PV uses the reference designed cooler however.The rest of the Ti4200-8X cards have large custom GPU coolers, and some also have memory heatsinks as well. Will a flashy heatsink mean better overclocking? You'll find out in the next few pages, so read on...