Aopen QF50A Budget Computer Case Review
---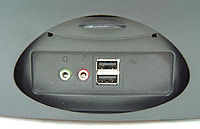 Integrated USB and Audio jacks at the front of the case come in handy when you need them, but connecting the ports to the motherboard can be tricky and most users may not know what to do.
Let's face the bitter truth of the matter; while we all like to look at big and shiny aluminum cases with lights pouring out of every vent, and plexiglass showing off a million bucks worth of cutting edge computer hardware, most of us still rely on the good old "white box" to hold our systems together. After all, why spend precious dollars on a fancy case when you could be putting that money towards other things?
Shopping on a budget is not only something for students, but businesses and education faculties also know how invaluable it can be stretch that dollar and get something more modest, and as they say, cost effective.
The term "white box" is industry slang for those atypical beige or off-white computer cases system builders rely on when assembling economical computers from OEM components. Incidently, if you've ever wondered what "OEM" means; it stands for Original Equipment Manufacturer. An OEM is a company who typically make items like the CD-ROM's which DELL and HP install in their systems, sometimes even relabel, and sell as their own. The computer industry is full of acronyms like OEM, and once you start entering the territory of ODM's (Other Device Manufacturer) and VAR's (Value Added Reseller) things can get pretty complex quickly.
If you can afford to buy your PC from a company such as DELL or Gateway you get the custom enclosure they give you, and generally pay a little more for the entire computer than what you would assembling a computer from bare components yourself.
Aopen, who are among the largest peripheral manufacturers on the planet, have been quietly selling cases for many years. Only recently have they begun making attempts to offer decent looking cases to budget minded markets. Colour, flashy accessories, and aluminum are nice, but when it comes to retailing a case and 300W power supply for under $50USD, it's thin steel sheet metal and black paint which keep accounting happy.
The AOpen QF50A is a typical four-bay ATX mini-tower enclosure with a dash of good looks - something any budget-minded consumer can appreciate.
Aopen QF50A Enclosure
(4) 5.25" drives
(2) 3.5" drives
(2) 80mm fan
allows (2) FDD
300Watt PSU
power/reset switches
ATX 2.01
(7) slot positions
There is an old adage that we live by around here - a good computer case outlives the components inside of it. If you've gone through a few upgrades you know how true that is. To last long a case doesn't necessarily need to cost $250, a mid-tower with a decent build can be just as good in the long run.
Fundamentally, a computer case should provide adequate cooling, protection to the components inside, ease of access and ease of upgradeability. Budget cases such as this one from Aopen tend to have sharper corners inside that can cut fingers, but in this case (pun intended) the Aopen QF50A is pretty good. Areas where hands are likely go are folded over and not sharp.
Given that the weight of the metal used to make the frame is on the thin side, the folded edges also provide some extra structural stability. Next, we open up the Aopen AF50A and take a look around inside...