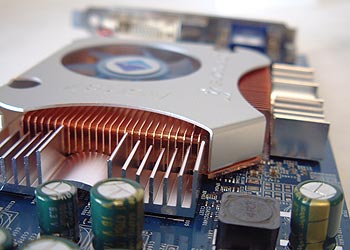 It looks like Albatron has produced another high quality nVIDIA based videocard; with a retail price of $335 CDN ($225 US), the Albatron Ti4800SE is a tad on the pricey side but as you can see, it performs very well when compared to other nVIDIA based videocards. As with most of Albatron's cards which we have tested thus far, the Ti4800SE is up to the challenge when it came to overclocking.
The Albatron Ti4800SE is very visually appealing with its big copper GPU cooler and RAMsinks for peace of mind. In terms of goodies, the Albatron Ti4800SE comes with all the needed cables to use its S-Video output capabilities, WinDVD software and two older games (Motocross Mania and Serious Sam). It Albatron could only include a DVI to analog converter as well so people could utilize the card's twinview options.
In terms of performance, the Albatron Ti4800SE performs just like we expected, albeit a tad faster then the Ti4680P-Turbo, and a bit slower then a the MSI GeForce4 Ti4600.
In terms of overclocking, our particular test sample was able to reach 345MHz core and 721MHz memory! At those speeds, the Ti4800SE could even rival the Radeon 9700 Pro in certain tests! If you're in the market for a videocard you are in for a tough choice though. The retail GeForceFX's are just around the corner, and when they are released prices should drop on all current cards... Its an exciting time for the enthusiasts!
Find out about this and many other reviews by joining the Weekly PCstats.com Newsletter today!
Related Articles:
Here are a few other articles that you might enjoy as well...