Albatron GeForce4 Ti4800SE Videocard Review
---
Even though all mighty nVIDIA saw fit to finally release their much anticipated, and long awaited GeForceFX GPU the current crop of GeForce4 Titanium GPU's still have loads of power left in them. The recent addition of 8XAGP breathes new life into the GeForce4 core, not really in terms of performance, but in terms of the ever lasting marketing battle between manufacturers.
Today we're going to be examining Albatron's Ti4800SE videocard which is based on the Ti4400 platform with 8x AGP. Don't you just love nVIDIA's marketing department. :) The Albatron Ti4800SE is backed by 128MB of 3.3ns BGA DRAM and comes with a DVI output for LCD displays, 15-pin analog output for regular old CRT monitors, and TV-Output port for video and such things.
In terms of other goodies; the Albatron Ti4800SE comes with an S-Video to RCA converter, a RCA-to-RCA cable, SVideo-to-SVideo cable, WinDVD software and full versions of Motocross Mania and Serious Sam. We would have liked to see Albatron include a DVI-to-analog converter as well, but I guess you can't win them all every time.
albatron ti4800se videocard

Albatron are using a nice cool-blue PCB for the Ti4800SE, the same colour as all of their other GeForce4 Ti videocards. They're also using the same large copper cooler (which is one of the better stock GPU coolers out there incidently) that's found on a few of their other cards. It's nice to see that Albatron have used a good amount of thermal paste between their GPU and core - hey, it's the little things that count!
Albatron have also slapped on some extruded aluminum RAMsinks, but they're more for show than functionality.
For those of you who would like to read up a bit more on GeForce4 Technology, please check out our Gainward GeForce4 PowerPack GS/Ultra 750 review, and for those who want to learn more about GeForce4 with 8x AGP technology read our nVIDIA GeForce4 Ti4200-8x roundup. Next we play a little game called... overclocking. The name of that game is just how high can the memory and GPU clock!
How does the Albatron overclock?
With a core clocked at 275MHz and memory at 550MHz (Ti4400 speeds) we didn't really know what to expect from the Albatron Ti4800SE as we started prepping for a massive experiment in overclocking.
I first raised the GPU core speed to 300 MHz and the Albatron Ti4800SE handled that without any problems. Next, I started to raise the core even higher, but this time I went slowly... 315MHz, 320MHz, 325MHz. The GPU showed no problems so we kept going. Next we started at 330MHz, then 335MHz, and then 340MHz. Still we wanted to go higher (ever read the story of Icarus?) and kept pushing until the core of the Albatron Ti4800SE reached an amazing 346MHz with plain old Albatron-style stock cooling!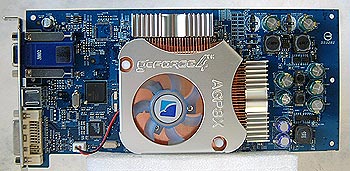 The BGA memory on the videocard was also up to the challenge in terms of overclocking. Starting from 550MHz, we immediately increased the speed to 650MHz which is default for a Ti4600 videocard and had no problems.
The memory frequency was then raised 25 MHz at a time until it reached a maximum speed of 721MHz. At that point the system would start to register artifacts with Artifact Tester.
A grand total of 346MHz Core and 721MHz memory is quite a hefty overclock from 275MHz core / 550MHz memory, and as you'll see it boosts 3D performance quite a bit!