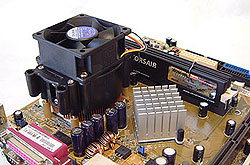 We tested the AthlonXP 3000+ processor with the an Asus A7N8X and two sticks of Corsair XMS3200 CAS2 memory originally, but when we tried overclocking with the A7N8X we ran into a few problems. So, we ditched that board and went with a personal favorite, the Epox 8RDA+. It supports the Barton core with the latest 1/29/2003 BIOS.
Thanks Epox, the AthlonXP 3000+ (Barton) was unlocked by default on the 8RDA+; but for testing we left the multiplier alone and just raised the FSB. Starting at 166 MHz we raised the FSB slowly... At around 175 MHz we began to have stability problems and had to raise the voltage to 1.75V.
Overclocking hit another snag at 187 MHz FSB where we had to raise the voltage yet again, this time to 1.8V. Our overclocking adventure maxed out at around 190 MHz and raising the voltage to 1.85V+ didn't help at all. A clock speed of 2470 MHz was the highest stable overclock we could achieve with the AthlonXP 3000+. At that point we could boot into windows and get CPUID shots all the way up to 2.55 GHz but that doesn't mean much. ;)
3DMark03 is the hottest benchmark at the moment, make sure you check out how the latest technology (AthlonXP 3000+, nForce2 Mobo and Radeon 9700 Pro) does with it as you look through the benchmarks next! =)
pcstats test system specs:

Computer Hardware:

Processor:

Pentium 4 2.8 GHz
AthlonXP 3000+

Clock Speed:

Intel 21 x 133 = 2.8 GHz
AMD 13 x 166 = 2.16 GHz

Motherboards:
MSI GNB MAX
DFI AD77 Infinity
Epox 8RDA+
Chipsets:
Intel E7205
VIA KT400
nVIDIA nForce2
Videocard:

ATi Radeon 9700 Pro

Memory:

2x 256MB Corsair XMS3500 CAS2

Hard Drive:
20GB Maxtor DiamondMAX+
CDROM:
NEC 52x CD-ROM
Floppy:

Panasonic 1.44MB Floppy Drive

Heatsink:
AVC Sunflower
Thermalright SK6 w/36 CFM Delta
PowerSupply:
Vantec 470W Stealth PSU
Software Setup

WindowsXP Build 2600
Intel INF 4.10.1012
VIA Hyperion 4.45
nVIDIA nForce 2.03
Catalyst 2.5
Catalyst 3.0 (for 3DMark03 only)

Benchmarks

SysMark 2002
Business Winstone 2002
Content Creation 2002
Super Pi
POVRay
SiSoft Sandra 2003
PCMark2002
3DMark2001 SE
3DMark03
Quake III Arena
UT2003
SPECviewperf 7.0
During testing, 8x AGP was enabled and functioning properly on all motherboards.