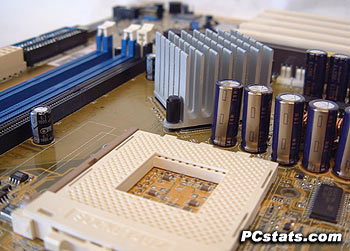 It's easy to see why so many people jumped on the nForce2 bandwagon early on because the Asus A7N8X motherboard is an awesome performer! To top things off, with a street price of $189 CDN it's also one of the least expensive nForce2 motherboards on the market as well!
Asus offers two A7N8X models, a much better equipped deluxe version which includes everything but the kitchen sink, and the leaner version which is what we reviewed here.
Lean does not mean lousy though, the A7N8X test sample did have 5.1 audio (AC'97 codec) and a 10/100 NIC as well.
If that's not enough for you, with the money you save you can make good use of those PCI devices. The board also supports up to a maximum of 3GB PC1600/2100/2700/3200 DDR memory and any 200/266/333 MHz based Athlon/Duron processors.
The layout of the A7N8X is awesome, there is nothing that will get in the way of the PCI devices, and the board is very well labelled. Everything from the Clear CMOS jumper to the front panel LED's are labelled. I also personally like the two fan headers above the AGP port - it just makes the lives of overclockers and enthusiasts that much easier.
I don't really understand Asus's AGP warning LED system. It's supposes to warn users that they have installed a 3.3V AGP videocard, but that's not really possible with the 4x AGP lock. I guess it sounds good though, and it's one more thing the marketing guys can use on the box.
The board we tested did not hold the multiplier very well for some unknown reason - often times it would boot with the default multiplier of the AthlonXP 3000+ instead of the one we selected. Hopefully Asus will release a BIOS update that resolves this issue soon. If you're in the market for a no frills performance nForce2 motherboard, give the Asus A7N8X a quick look over. It may just be to your liking...
Find out about this and many other reviews by joining the Weekly PCstats.com Newsletter today!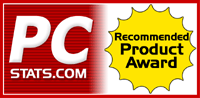 Related Articles:
Here are a few other articles that you might enjoy as well...