Asus A7N8X nForce2-SPP Motherboard Review
---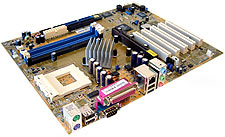 Ask anyone in the computer industry to name who they think is the best manufacturer and Asus will always be one of the first companies to come to mind. Asus have been producing motherboards, videocards, and countless other OEM components since 1989, and today we're going to be examining their extremely popular Asus A7N8X nForce2 SPP motherboard.
Based on the nVIDIA nForce2 SPP chipset, the A7N8X was one of the first nForce2 motherboards on the market and the board caught on like a wild fire. Being first always has its advantages. Asus offer the A7N8X in two versions; there's the deluxe model which is probably the most well equipped motherboard on the market (with ethernet, firewire, Serial ATA) and the plain "no frills" version which is what we're reviewing today.
The Asus A7N8X motherboard has support for any 200/266/333 MHz based Athlon/Duron socket A processor, including the newly released Barton core.
The board features three DIMM slots which will accept up to 3 GB of PC1600/2100/2700/3200 DDR memory, though because of the nForce2 chipset you'll probably want to limit memory to two DDR400 compliant modules for dual channel goodness of up to 6.4GB/s data transfer. On this no frills version we find on board AC'97 codec 5.1 audio, a 10/100 NIC, and a total of six USB2.0 headers (four rear, two onboard). In terms of expansion, there's an 8X AGP Pro slot and five 32 bit 33 MHz PCI slots. There is no IDE RAID, but support for UltraDMA 133/100/66/33 devices.
asus a7n8x motherboard




Ships with the following:

IDE ATA66/100 Cable
IDE ATA33 Cable
Floppy Drive Cable
Driver CD
User Manual
Rear I/O Back Panel

Brackets:

Game Port Bracket

Serial Port Bracket

Asus are not big on colours, and all their motherboards except the Black Pearl line are a rather bland brown colour. The layout of the board is excellent, nothing interferes with the expansion slots and the IDE/floppy and ATX power connector are located in the perfect location to the right of the DIMM slots.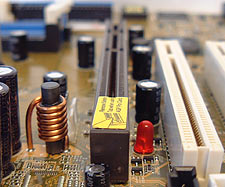 There are four USB 2.0 ports in the back which should be plenty and one more free USB header on the motherboard (no USB bracket though). Like most other motherboards in its class, the A7N8X is extremely well labelled so you won't have to refer to the manual when you're installing the front panel LED's.
I just love how Asus puts two fan headers above the AGP slot - this is extremely helpful for those of us who use third party GPU coolers. Conversely, if you would like to use the Zalman ZM80A-HP VGA heatsink with a ATI Radeon 9700 pro there is enough room on the backside of the AGP slot so not capacitors will get in the way.
I'm not a fan of AC'97 codec based audio, I would prefer manufacturers not include it altogether but for those on a tight budget it is an easy way to make due.
The red AGP warning LED is an absolutely useless feature, it's suppose to warn users when a 3.3V (2x AGP) based videocard is inserted into the slot, but that would never be a problem with the 4x AGP lock (4x AGP cards run on 1.5V, 8x run on 0.8V). I guess it sounds good for the marketing department.