OCZ PC2700 EL Dual Channel Memory 2x 256MB Kit
---
It was only a matter of time before manufacturers and their marketing departments jumped all over the "dual channel DDR" craze created by nVIDIA's nForce2 (Athlon) and Intel's Granite Bay/Springdale/Canterwood (P4) chipsets. In all honesty I understand why they did it, after all if you can charge more for DIMM's "tested" to run properly together why not do it? Like everything else in life it always all comes down to money.

Today we're going to be checking out OCZ's PC2700 EL (Enhanced Latency) memory kit which consists of two 256MB modules intended for dual channel DDR motherboards. OCZ equip this memory with black aluminum heatspreaders which are supposed to help with passive cooling, but considering that there are four DRAM's per side I don't think this is really all that necessary. The black aluminum heat spreader looks sleek and at least offers some static protection to the precious DRAM's below.
Of course, being our usual curious selves we wanted to see what was under the hood on these PC2700 modules. With care and caution we pried the heatspreaders off and found four 256Mbit DRAM's per side with a OCZ 252US X4W560840A-40 markings on them.
With a -40 (4ns) speed rating on it, the DRAM modules are rated to run up to a maximum speed of 250 MHz! Of course as we have seen past, just because the memory has all the markings of a good overclocker doesn't make it so. OCZ has been pretty good to us so far though, so we had some pretty high hopes in store for overclocking this memory.
Everybody loves Overclocking!!!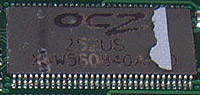 What review would be complete without an overclocking section? Using the Epox 8RDA+ as the test motherboard, we lowered the " Barton core" AMD AthlonXP 3000+'s multiplier to 10x and began raising the FSB.
At 173 MHz we ran into a few problems and had to raise the DIMM voltage to 2.77V to maintain stability. We began to up the FSB a bit more and at 185 MHz we hit another problem and had to give the memory module 2.9V to keep the system from BSOD'ing when running PCMark2002.
The highest we were able to push the two 256MB OCZ PC2700 EL sticks of memory while keeping the most aggressive memory timings was 190 MHz FSB with a DIMM voltage of 2.9V. With more conservative 2.5-3-3-7 timings we were able to hit the 200 MHz FSB mark, but obviously 190 MHz @ 2-2-2-5 is better then 200 MHz FSB with lousy timings.
pcstats test system specs:

computer hardware:

processor:

athlonxp 3000+

clock speed:

13 x 166 mhz = 2.17 ghz

11.5 x 190 mhz = 2.18 ghz

motherboards:
epox 8rda+
chipset:
nvidia nforce2 spp
videocard:

ati radeon 9700 pro

memory:

2x 256mb corsair xms3500 cas2
2x 256mb ocz pc2700 el

hard drive:
20gb maxtor diamondmax+
cdrom:
nec 52x cd-rom
floppy:

panasonic 1.44mb floppy drive

heatsink:
thermalright sk-6 w/40cfm ys tech
powersupply:
vantec 470w stealth psu
software setup
windowsxp build 2600
nforce 2.03
ati catalyst 3.1
benchmarks

sisoft sandra 2003 pro
pcmark2002
3dmark2001 se
quake iii arena
ut2003
up next, the benchmarks...