Behind the 88-translucent keys is a flat sheet of electro-luminescent material - the same stuff that puts the glow in "Indiglo" which lights up watch faces around the world.


79% Rating:

Home > Reviews > Peripherals > Zippy UL-610
Zippy Electro-luminescent EL-610 Mini-Keyboard
---
I've personally always preferred typing out articles on a notebook keyboard versus that of a full sized klunker. Notebook-style keyboards have a shorter keystroke which makes them 'faster'. Keystroke is a way of measuring how far you have to press a key down before it counts as a letter to the computer, and since a notebook doesn't have all that much free space the keystroke is typically just 3mm. Compare that to a full sized 104-key Windows keyboard which can have as much as a 6-8mm keystroke.
This preference for 'fast' notebook-styled keyboards has held on for long time inspite of the sometimes cramped layouts and condensed key pitch (how far keys are spaced apart) that comes with territory.
The Zippy EL-610 USB keyboard (from Byteccusa.com) is a notebook style 'B5' keyboard with a twist - with the flick of switch it will glow blue.
Behind the 88-translucent keys is a flat sheet of electro-luminescent material - the same stuff that puts the glow in "Indiglo" which lights up watch faces around the world.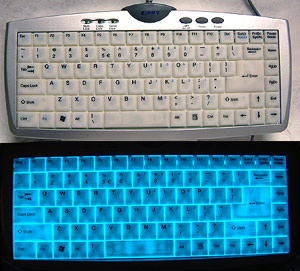 Drawing power from the USB port, the keyboard is intended to be used in environments where there is insufficient light, as well as applications which would do well to have a light-weight portable keyboard at hand. So for exmple if you are a sales person who travels around and gives presentations in darkened boardrooms with a Tablet PC this could be just the ticket to make misplaced keystrokes (or bad handwriting) a thing of the past.
The keyboard is slim, measuring a scant 18mm thick and weighs less than 500grams making it highly portable. No software is required for this keyboard to work on Windows 2000 or WindowsXP platforms which have at least one USB port free.

The Zippy EL-610 features a typical set of Windows keys with the addition of a built in "Power Off," "Sleep" and electro-luminescent "Light On/Off" buttons. I'm not so sure I like these little buttons that much, since I keep hitting the sleep key by accident and suspending my computer when I move the keyboard around.
Aside from the fact that the keys are in a somewhat different order than the notebook I use to write reviews (a trusty TM5800 Crusoe-powered Fujitsu P2000) the Zippy keyboard is pretty nice to use. The keys require a little more force to depress, but this might just be the equivalent of "new keyboard smell." The stroke is soft and mushy, but pretty quite since the hard return is taken away from keyboards of this class.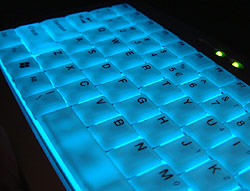 The electro-luminescent light generates no heat, but the powersource does to a small extent; it also creates a little buzzing sound which you can hear if you hold it up to your ear. With the everyday din of keystrokes rattling off the electro-luminescent powersupply is not audible.
With the Zippy EL-610 plugged in and the blue electro-luminescent light turned on the keyboard has a really attractive appeal to it. Like a moth drawn to the flame of a bug zapper, the EL-610 has a mystifying effect as words are typed out. As each letter is pressed the translucency changes slightly - this is especially visible with the larger keys like the space bar and enter key - making that one key stand out for a second.
In any event, the Zippy EL-610 is really neat adaptation of a portable keyboard which I suspect will strike a chord with night owls, 3AM gamers, or others who need to work in lower light environments. The soft blue light given off is not distracting, not too bright, and back lights the markings on each key clearly.
It's almost surprising that such innovation has not yet made it into mainstream notebooks. I can think of more than one occasion where I would have sacrificed some battery time on the Fujitsu P2000 if I could have seen the keys better on a red-eye back from Comdex. There is also a certain amount of "wow" factor when you see this keyboard plugged in on someone's desk in a dim room - but then again looks aren't everything... always.
The Zippy Electro-luminescent EL-610 USB keyboard is distributed through www.byteccusa.com with an MSRP of about $55USD.




Contents of Article: Zippy UL-610

---