Crucial PC3200 DDR400 256MB Memory Review
---
A division of Micron, Crucial.com have been selling JEDEC-spec memory directly to the public since 1996. Since then they have built up an extremely good reputation for themselves, just check out their Reseller's Rating! It's not that they just sell quality memory, Crucial also offers first class service to its customers. Heck, most of the memory in the PCstats.com servers is Crucial memory.
While we haven't had a stick go bad on us yet, we have dealt with Crucial customer service on a few occassions (usually when ECC memory was mistakenly ordered instead of ECC Registered DIMMs) and the results have always been helpful.
In any case, on with today's look at some special engineering sample Crucial PC3200 DDR. After JEDEC approved the PC3200 standard in Dec. 2002, manufacturers began the rush to not only get their DDR400 memory compliant, but also to encourage support within mainstream computer manufacturers like Intel.
A short clip from their first announcement puts this into perspective:
Micron Technology announces the availability of Intel-compliant DDR400 (PC3200) products, continuing its leadership in high performance PC desktop memory platforms. With Intel's introduction of Intel 865P/865PE/865G (Springdale version) chipsets, along with 875P (Canterwood), at Spring IDF, the market gains a new level of desktop performance with support for dual-channel memory and support for both DDR333 and DDR400 memory. Concurrent with the launch of these platforms by Intel, Micron is delivering PC3200 128MB and 256MB DDR400 DIMM modules to major OEM customers. In addition, Micron has provided modules to Intel for validation, and anticipates validation within the coming weeks. DDR400 demand is expected to grow significantly as the market migrates to higher speed DDR products. "We are ahead of market demand for DDR400 and we will easily meet the DDR400 needs of our customers," said Mike Seibert, Strategic Marketing Manager for Micron's Computing and Consumer Group.
We're also slightly ahead of the curve as Crucial have been nice enough to send over a pair of engineering sample 256MB PC3200 DDR400 memory modules based on Micron DRAM's.
But Crucial already sells PC3200 DDR, what are you doing with engineering samples now? While it's true Crucial has been selling PC3200 memory, their older PC3200 compliant DIMM's were actually built with Samsung DRAM.

It seems the memory manufacturers are having a hard time with the JEDEC PC3200 standard, most compliant PC3200 memory use extremely relaxed memory timings as is the memory we're testing today. By default, the Crucial PC3200 DIMM's run with 3-4-4-8 memory timings at 2.5V and each stick of memory uses 16x 128Mbit Micron DRAM which have a 5ns rating.
Overclocking the DDR400:
We've had some pretty good success overclocking Crucial memory in the past so we were hoping for a good overclock out of this PC3200 memory as well. Because we almost always test memory with the most aggressive timings we used those as well for the Crucial PC3200, but unfortunately the memory did not play nicely with our reference Epox 8RDA+. No matter what we did or what voltage we used, we kept getting a C1 error on the Port 80 card (which means system memory error) at speeds of 200 MHz FSB.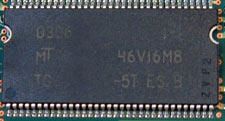 We tried raising the DIMM voltage to 2.9V but that still didn't allow us to work with the most aggressive timings at 200 MHz FSB. I tried lowering the timings to 2.5-3-3-6 and still no dice. We no longer got the C1 error, but we would get a BSOD while loading WindowsXP. In the end we were only able to get the memory to run at 200 MHz FSB with the SPD timings of 3-4-4-8 but using a voltage of 2.9V.
Because I was not quite satisfied with my overclocking adventure using the AMD rig, I decided to test the Crucial memory in an Intel system as well. Using a Pentium4 1.6A and an Abit IT7 MAX2 Rev2 (with the 3/4 memory divider enabled) I pushed the memory hard right from the start.
Unfortunately we had similar results with the Intel test system as we did with the AMD rig. With the most aggressive timings available in the BIOS (2-2-2-5) we hit our maximum speed at around 185 MHz.. Giving the memory 2.8V allowed us to go to 190 MHz FSB; more memory voltage was not the answer as I even tried 3.2V.
However, when I lowered the memory timings to 2.5-3-3-6 on the Intel test system I could run the Crucial PC3200 DDR400 with a 200 MHz memory frequency with no problems, and at a voltage of 2.6V.
Please keep in mind, the memory we tested is classified as engineering samples, so the results we say here may not be indicative of what you'll find with the retail parts. Up next, benchmarks.