GeIL PC3500 DDR433 Dual Channel Memory Kit Review
---
It's amazing how things can change in the span of just six months. Last year GeIL was a relatively unknown company in North America, and now they are certainly giving the "big guns" like Corsair and Mushkin a good run for the money in the performance segment. When we originally reviewed GeIL's PC3500 DDR last August, we noted that we had some problems with AMD based systems but were generally impressed with what the memory could do in a Pentium4 system.
With the DDR400 phenomenon in full swing, we are today testing out GeIL's PC3500 "DDR433" Dual Channel Memory Kit which is designed specifically for dual channel chipsets like nVIDIA's nForce2, and Intel's Granite Bay/Springdale/Canterwood. In theory, these DIMM's should run smoothly together and not give us any compatibility problems. There is always a slight chance that If you were to buy two separate sets DDR sticks problems may arise if the DIMM's are not rated for dual channel memory operation.
With a retail price of $180 CDN ($120 US) for two 256MB sticks (total 512MB), the GeIL DIMM's are about $75 CDN ($50 US) cheaper than two 256MB sticks of Corsair's TWINX512-3200LL (PC3200) DDR memory! Not bad considering the GeIL memory has a higher overall speed rating. The real question of course is how it performs in real life...
According to GeIL's website , the PC3500 DC kit is uses hand picked 4.5ns DRAM, and obviously, is rated to run at PC3500 speeds (216 MHz FSB) with memory timings of CL2-6-3-3. However, the modules require a voltage of between 2.5-2.9V to meet those specs. The DIMM's are covered by tin coated copper heat spreaders which look very cool and do seem to work well, since at high speeds the memory did get quite warm to the touch.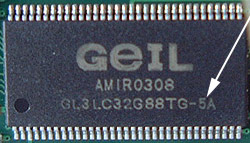 Looking Under the hood
Being one who is never content to leave well enough alone, I wanted to see what was really under the copper heat spreaders. It seems GeIL used some extremely strong thermal tape because they were very difficult to remove (if you aren't really careful you may damage your memory, so I don't suggest you remove your heatspreaders). After about five minutes of tinkering I was able to pop off the copper heat spreaders and to my surprise the GeIL PC3500 module was populated with 5ns GEIL DRAMs instead of the advertised 4.5ns...
We e-mailed GeIL about this and they told us that their early PC3500 DC DIMM's were using mislabelled DRAM and that the memory had a real 4.5ns rating.
When the memory was installed in the Epox 8RGA+ motherboard my first instinct was to see high the memory would overclock. I immediately bumped the FSB to 200 MHz and lowered the timings to 2-2-2-5 but unfortunately was met with a BSOD while loading windows.
Raising the memory voltage to 2.7V stabilized things and I could then run though every benchmark with ease. I began to increase the FSB slowly once more. At 205 MHz we again encountered stability problems and were required to increase the memory voltage in the BIOS to 2.8V. In the end, the top speed we were able to run at with the memory at the most aggressive timings was 208 MHz FSB. To maintain this speed required a 2.9V memory voltage.
Using SPD settings (memory set to 2-3-3-6) we could run at 216 MHz FSB 24/7 with no problems. Of course because of the looser timings our overall performance was not quite as high as 208 MHz FSB with tight timings.
Knowing AMD and Intel based systems overclock quite differently, we here at PCstats.com will also be testing memory on Intel based systems from now on as well.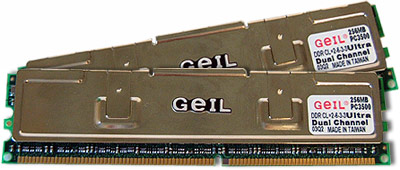 For our Intel rig, we used a Pentium4 1.6A, Abit's IT7 MAX2 Rev2 (yes I know it's not a DC DDR motherboard) and enabled the 3/4 memory divider. With both DIMM's installed in the Intel system I began to raise the FSB while maintaining the most aggressive memory timings. First 200MHz, 205MHz, then 210MHz memory frequency with no problems. At 219 MHz we had to increase the DIMM voltage to 2.8V to stabilize things. In the end with a voltage of 3V we were able to hit a maximum speed of 226 MHz with the tightest timings and 234 MHz at SPD!
Not too bad at all, we were extremely impressed with what we saw in terms of our Intel overclocking adventure! Up next, the benchmarks.