Cornea Systems CT1904 19 inch LCD Monitor Review
---
The CT1904 is the latest addition to Cornea Systems LCD monitor catalogue, and with a retail price of around $680USD, I doubt this 19" TFT monitor will be sitting on the shelves for very long. The Cornea CT1904 is blessed with the large screen real estate that people really want, with very good viewing angles (85 degrees up/down/left/right), and with an industry standard 25ms pixel response time. The 3" thick display panel takes up only a fraction of the desk space of an equivalent 50LB monster 19" CRT monitor, and since the CT1904 draws ~40W of power, it's also easier on the electrical budget.
The brightness value of the display is spec'd out at 250 nits (cd/m2) which is good, but not record breaking. A contrast ratio of 500:1 should help the Cornea CT1904 fare well in the tests later on though.
The display connects to a PC through either a standard 15-pin analog or digital DVI video connection. If you have a videocard with a DVI signal output (the larger white connector) it's always best to use that with an LCD since there is no need for the signal to be converted from digital to analog, and then back to digital.
LCD displays are entirely digital devices and although they work well with either type of signal, proper adjustment is required to ensure that the analog signal will be displayed correctly. The CT1904 has its "auto adjust" key front and center making such adjustments a one-touch affair.
Cornea CT1904 Display:



Screen Size:
19" Diagonal
Resolution:
1280x768 pixel
Pixel Pitch:
0.294mm
Luminosity:
250cd/m2
Contrast Ratio:
500:1
Viewable Angle:
85/85/85/85
Pixel Response:
25ms
Power Draw:
40W
Bezel Colour:
Metallic Silver / black
Approx. Retail Price:
$680USD
Manufacturer:
www.corneasystems.com
Inputs: Analog, DVI, Audio jack, Headphone jack, AC power
| | |
| --- | --- |
| | The control panel on the face of the Cornea CT1904 is very simple; consisting of a row of five buttons. With the arrows you are able to navigate the OSD, but they don't seem to have any direct control of brightness or contrast. The Auto key is easily accessible which is very nice to see, and the select key will allow you to toggle between an analog or digital input. |
I've always been somewhat undecided on the whole integrated speakers within LCD displays as selling point. Measuring just 2.25" thick there really isn't much room to squeeze in any sound system of merit within the CT1904. Often we find ourselves left with a wanky pair of tiny 1"-2" speakers that are good for streaming news reports and little else. Speakers that small always tend to distort music played through them, so high volumes are never a good idea either.
Cornea have embedded a set of 2W stereo speakers within the lower bezel of the 19" CT1904 (see the holes adjacent to the Kensington security hold below, left), but as they are oddly directed towards the rear it makes them somewhat difficult to hear. We tested out the speakers with some music and with streaming news (news.bbc.co.uk) to get a feel for how they would react, but without direct volume control it was kind of counter productive. The volume can be adjusted through the displays OSD if need be.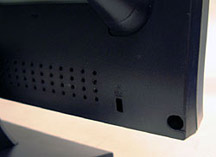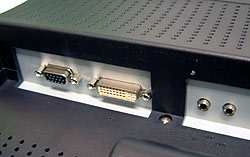 Adjacent to the audio input jack is a 3.5mm headphone jack. The location of the jack (at the rear of the display by the stand) makes it inconvenient to plug into, and I have a suspicion that most users of this display may never even realize there is a headphone jack in the first place.

While it can be handy to have some audio built into a monitor for office environments, I don't think the Cornea CT1904 has it implemented in the best possible way. Of course it's worth remembering that is an LCD display and not a pair of speakers , so as far as we are concerned, audio is a nice feature, but the picture quality is what will make or break it!