With all the things going for the Turbo-Cool 510-PFC, we're expecting to see some rock solid voltages no matter what we throw in its way. All voltages were read from the BIOS from the motherboard.
pcstats test system specs:

computer hardware:

processor:

pentium 4 2.66b

clock speed:

20 x 172 mhz = 3.44 ghz

motherboards:

aopen ax4spe max

chipsets:

i865pe

videocard:

ati radeon 9800 pro

memory:

2x 256mb corsair xms3500 cas2

hard drive:
40gb maxtor diamondmax+
cdrom:
nec 52x cd-rom
floppy:

panasonic 1.44mb floppy drive

heatsink:
swiftech mcw5000-pt
powersupply:
pc power & cooling 510-pfc
software setup
windowsxp build 2600
intel inf 5.00.1012
catalyst 3.4
Listed Voltages
AMP
Lower Voltage
Upper Voltage
Jitter
+3.3V
30A
3.33V
3.36v
0.03v
+5.0V
40A
5.06v
5.10v
0.04v
+12V
34A
12.00v
12.10v
0.10v
-12V
2.0A
11.99v
12.02v
0.03v
-5.0V
0.3A
4.99V
5.01v
0.02v
+5.0Vsb
3.0A
5.00V
5.00v
0.00v
Those voltages are simply awesome! Please keep in mind these were our values with the Turbo-Cool 510-PFC at stock, we did not tweak the internal pots for higher voltages! With my old Enermax 550W, the 12V rail dips to about 11.45V with the system overclocked and that caused stability problems when running at high speeds.
Simply an awesome power supply!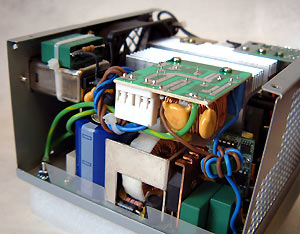 The performance of the power supply speaks for itself, it's rock solid even with a highly overclocked system. Of course this performance comes at quite a steep price, the PC Power & Cooling Turbo-Cool 510-PFC retails for $255 CDN ($189 US) which makes it the most expensive consumer/desktop PSU on the market.Despite that, it seems their customers are happy as they have an excellent life time rating 9.59 on Reseller Ratings.
A good yard stick to use when measuring manufacture confidence in their own products is warranty. Most power supply manufacturers on the market will only provide a one year warranty, some provide a three, PC Power & Cooling is so confident in their Turbo-Cool 510-PFC that they offer a five year warranty!
The Turbo-Cool 510-PFC is not the prettiest power PSU on the market but then again PC Power & Cooling does not resort to flashy gimmicks like multiple fans or fans with LED's to attract their customers. Rather they rely on the quality of their components to sell their products.
The glass fibre Nidec Beta SL 80mm fan was extremely quiet and you're definitely not going to hear it during operation. For those overclockers out there, if your voltages start to dip below what you'd expect you can adjust them with the internal pots.
The only downer that can be associated with the Turbo-Cool 510-PFC is its high price. Like all things in life though, if you want the best you'll have to be prepared to pay for it.
Find out about this and many other reviews by joining the Weekly PCstats.com Newsletter today!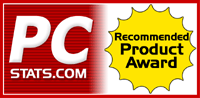 Related Articles

Here are a few other articles that you might enjoy as well...

2.