Abstract: Who could forget great motherboards like the BH6, BE6-II and BX-133? How about the more recent TH7II, BD7 or ABIT IT7 MAX2 Rev2 for the Pentium 4 processor?


84% Rating:

Home > Reviews > Motherboards > ABIT IS7-G
Overclocking and BIOS
We've had quite a bit of luck in the past overclocking Abit motherboards and I was hoping that the IS7-G would be good to us as well. The FSB was raised slowly at first, but at 217 MHz FSB we ran into a few stability problems. Raising the VCore to 1.6V fixed those problems so we started to push the board again.
At 225 MHz FSB we ran into a few weird problems. First we had to up the CPU voltage to 1.7V to help stabilize things and we had to enable the 5:4 memory divider to keep the board from crashing back to desktop in 3DMark2001. This is a bid odd as we have gotten Corsair's XMS3500 CAS2 DIMM's well past 230 MHz FSB on other motherboards.
In the end we were able to push the Abit IS7-G to 237 MHz FSB while maintaining 100% stability. Not bad considering we're using an air cooled P4 3.0C processor, if we had a 2.4C I'm pretty sure 270 MHz+ FSB would have been attainable for this motherboard.
The awesome Abit BIOS: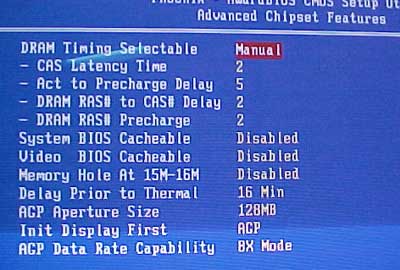 Abit gives the end user the usual memory timing tweaks such as CAS Latency, RAS to CAS and RAS Precharge. We're also able to change the AGP rate as well as the AGP aperture Size.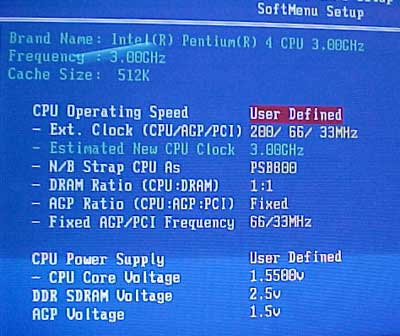 Overclockers are no doubt familiar with Abit's Soft Menu options (Abit no longer calls this Soft Menu III). Maximum FSB is 412 MHz in 1 MHz increments. As with most other Pentium 4 motherboards on the market, we're also able to lock in the AGP/PCI frequency. The BIOS allows the end user to raise the CPU voltage to 1.85V which is very nice.
However, DDR voltage max's out at a lowly 2.8V. The more hardcore overclockers out there will probably have to mod the motherboard for higher memory voltages.