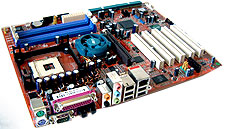 With a retail price of $220 CDN ($165 US) the Abit IS7-G is a little bit on the pricey side, but then again Abit motherboards have never been priced to sooth the value buyer's tight wallet. Performance of the IS7-G was very good as the benchmarks have shown, and if you're not satisfied with that, the IS7-G is also an awesome overclocker.
In terms of features the IS7-G is pretty run of the mill with 5.1 audio, Serial ATA/Serial ATA RAID, IEEE 1394 and 3Com Gigabit LAN. If you need to expand, there are five PCI slots and an 8x AGP slot to drop your hardware into.
The layout of the IS7-G is pretty good. The main ATX power and floppy drive connectors are in their ideal location to the right of the DIMM slots. Because Abit places the regular IDE channels on the lower half of the motherboard, they turn the ports 90 degrees so they do not interfere with system air flow, or adjacent PCI devices.
To help keep the power to the processor stable, Abit places the ATX12V connector right next to the MOSFETs. Newbies need not fear installing the IS7-G either because the motherboard is very well labelled.
In the dark relm of overclocking, we were able to coax a speed of 237 MHz FSB out of the board we tested with a little help from a friendly P4 3.0C.
The things I disliked most about the IS7-G is the location of the IEEE 1394 connectors. Where they are, they sit right in front of most videocard GPU HSF's. I like a little space around the videocard at all times - kinna like rock star.
Lastly, I would have liked to have seen some higher voltage options in the BIOS. For those reading this who are insane about overclocking you'll probably want to voltage mod the motherboard. For the rest of you, the board is just fine the way it is. Bottom line, if you're the kind of person who tries to pump out the highest 3DMark scores, does a lot of gaming or just wants a fast motherboard then the IS7-G is for you. It can deliver on all fronts. ;-)
Find out about this and many other reviews by joining the Weekly PCstats.com Newsletter today!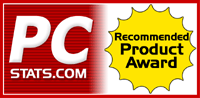 Related Articles

Here are a few other articles that you might enjoy as well...

2.