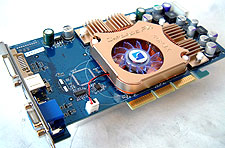 Considering the performance of the Albatron GeForceFX 5200 Ultra and considering it's a budget videocard which retails for $200 CDN ($155 US), we're very pleased with the results. Often the GeForceFX 5200 Ultra is able to nip at the heels of the much more expensive Albatron GeForceFX 5600P Turbo!
Looking at the card you know that Albatron means business and their GeForceFX 5200 Ultra and it's easily one of the best value videocards we have ever used. If it's not fast enough for you, with 2.8ns Hynix DRAM and a large copper GPU cooler you can overclock it! ;-) The test sample was able to run at an amazing 358 MHz core speed and 712 MHz memory! With some better cooling I'm sure the card can go higher!
With TV-Output capabilities, you can hook up your computer to the much larger TV when playing games or doing some internet browsing. The software bundle is pretty skimpy with only WinDVD but that's not surprising considering the price. One thing we would have liked to see is Albatron include a DVI to analog converter so users can use dual displays.
If you're a casual gamer but are not satisfied with what you're using right now the Albatron GeForceFX 5200 Ultra is a reasonable upgrade even if you're using something as new as a GeForce4 MX 440 class card. If you have a Ti4200 or higher then you'll probably want something better.
Either way the Albatron GeForceFX 5200 Ultra is an awesome value especially if you consider it's overclocking potential!
Find out about this and many other reviews by joining the Weekly PCstats.com Newsletter today!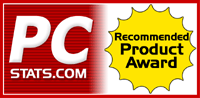 Related Articles

Here are a few other articles that you might enjoy as well...

2.