Albatron GeForceFX 5200 Ultra Videocard Review
---
Buying a new videocard has never been more difficult and confusing than it is today. There are only two major players in the video graphics chipset manufacturing game (nVIDIA and ATi), but the market is flooded with various GPU's that have huge price differences, and very similar names.
Manufacturers know that most computer users are not gamers, and of those who game, only a small fraction are "hardcore" enough to keep buying those $500 videocards every six months. That's why most manufacturers wisely focus on the low-to-mid end videocard markets.
With the new GeForceFX class videocards even those on a tight budget can enjoy the benefits of DX 9, albeit at lower resolutions. Now that the arena has been set, Albatron has sent their GeForceFX 5200 Ultra to do battle with the other budget based videocards on the market.
To help keep costs down, Albatron bundled only the basics with their FX 5200 Ultra. The only piece of CD that Albatron includes is (other then the driver CD) WinDVD. For those of you who want to output the image onto your TV, Albatron includes a S-Video to composite converter as well as a Composite to Composite cable. We would have liked to see Albatron include a DVI to analog converter too so users could take advantage of dual monitors.
albatron geforcefx 5200 ultra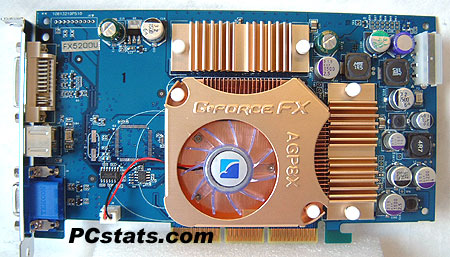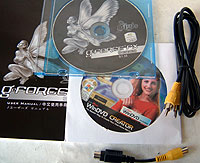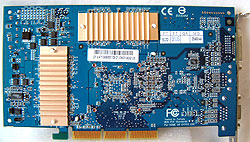 Albatron pretty much follow the text book example of nVIDIA's GeForceFX 5200 reference design. Unlike their less expensive FX5200P, the GeForceFX 5200 Ultra has an additional molex power connector. The card will run just fine without the computer feeding the videocard with extra power, but under extreme loads the system may become unstable and reset.
As you can see Albatron uses their trademark copper GPU HSF which is as good as the third party GPU coolers on the market. Albatron also use some decent sized ramsinks on both the front and back of the videocard. We checked, and there actually is white silicon thermal compound between the DRAM and heatsinks! It's nice to see a manufacturer take pride in their products and show they are willing to take the extra steps when needed.
With a retail price of $200 CDN ($155 US) the Albatron GeForceFX 5200 Ultra is a bit on the expensive side but if you want one of the fastest budget videocards on the market then it shouldn't be a problem.
One Small Quirk...
On a side note, we had a hard time getting the Albatron GeForceFX 5200 Ultra to work well with our Granite Bay/P4 2.8 GHz processor test system. The driver would install but we'd always get a "not enough resources" error in device manager. At first we thought that the card was defective, but we saw the exact same error with two other GeForceFX 5600/5200 videocards from different manufacturers.
After some frustrating troubleshooting, we found that if DMA transfer mode on the HDD's was disabled the videocards would work flawlessly. With it enabled and the videocard simply refused to work properly.
Up next, the overclocking adventure you've been looking for.