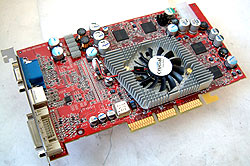 There's little doubt that the Crucial Radeon 9800 Pro is one fast videocard. Of course with a price tag of $537 CDN ($399 US) that's to be expected. Who would have guessed that a year ago that ATi would be giving nVIDIA a run for its money at their own game?
Crucial is a company that I hold in high regard, they have never let me down personally and when one of their components do fail, their customer service is top notch. A lifetime reseller rating of 9.76 should tell you that their customers are very happy!
It's nice to see ATi address some of the issues that were brought up with the Radeon 9700 Pro. Going with a molex power connector is a much smarter move and it's great to see that the stock VPU HSF actually makes contact with the core despite having a shim around it.
Crucial includes all the necessary cables and adapters to fully take advantage of your videocard (S-Video-to-Composite adapter, S-Video-to-S-Video cable, composite-to-composite cable and a DVI-to-analog converter). The software package is a bit thin with only PowerDVD, but then again any games that are bundled would just drive up the price of the card.
Stock performance of the Crucial Radeon 9800 Pro is simply awesome! Often it's able to leave the older ATi Radeon 9700 Pro in the dust and if that's not fast enough for you you can always overclock. Our particular sample was able to hit a nice 456 MHz core and 369 MHz memory and as you can see that boost performance nicely.
If you want the fastest thing on the market, the Crucial Radeon 9800 Pro can deliver. Top of the line performance has always held a price premium but knowing you have Crucial quality and service backing the card up certainly makes buying the card a much easier.
Find out about this and many other reviews by joining the Weekly PCstats.com Newsletter today!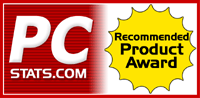 Related Articles

Here are a few other articles that you might enjoy as well...

2.