R300 vs R350:
As we mentioned earlier the R350 core is simply an R300 core clocked higher and tuned for just a bit more performance. It's still built on the same 0.15 micron technology, and still has 107 million transistors.
ATi tweaked the Hyper-Z III to be a bit more efficient with the Radeon 9800 Pro and has been optimized for future games. Unfortunately ATi was pretty vague on the details of this tweaking, but when we clocked our Crucial Radeon 9800 Pro at 325/310 (Radeon 9700 Pro defaults) and compared it to our ATi Radeon 9700 Pro we get these results.
3DMark2001SE Benchmark Results
Video Card
3DMarks
Ranking
1.

ATi Radeon 9700 Pro

15565
2.
Crucial Radeon 9800 Pro (325/310)
15813
3DMark03 Benchmark Results
Video Card
3DMarks
Ranking
1.

ATi Radeon 9700 Pro

4998
2.
Crucial Radeon 9800 Pro (325/310)

5082
While the scores are very close the Crucial Radeon 9800 Pro does edge out the Radeon 9700 Pro in both tests. It looks like the memory controller is more efficient with the R350!
Overclocking a fast card, faster!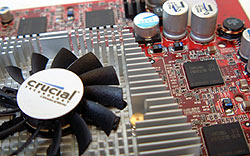 Just because the Crucial Radeon 9800 Pro is one of the fastest cards on the market doesn't mean we're not going to overclock it. = )
By default the R350 core is clocked at 380 MHz and the memory at 340 MHz (up from 325/310 on the Radeon 9700 Pro).
With the stock cooler we began to raise the core speed. The 400 MHz mark came and went easily, 425 MHz was no problems either. 430MHz, 440MHz, 450 MHz and still zero problems (with an 80W pelt the highest we could get the Radeon 9700 Pro was 443 MHz!). Our core overclocking adventure ended abruptly at 456 MHz. Anything higher and it would start to artifact while running Quake III Arena.
We had some luck in the past overclocking the naked Samsung 2.8ns BGA DRAM and was hoping for the same with the Crucial Radeon 9800 Pro. In the end we hit a maximum speed of 369 MHz which is not bad, but to be honest I was a bit disappointed I couldn't go higher. Perhaps some RAMsinks would improve the overclockability of the memory.
Please remember that we were overclocking with stock cooling.
pcstats test system specs:

computer hardware:

processor:

pentium 4 2.8 ghz

clock speed:

21 x 133 mhz = 2.8 ghz

motherboards:

msi gnb max-fisr*

chipsets:

e7205

videocard:

ati radeon 9700 pro (325/620)
msi g4ti4600-td (300/650)
gigabyte radeon 9600 pro (400/600)
prolink geforcefx 5600 golden limited (325/600)
albatron geforcefx 5600p turbo (325/600)
crucial radeon 9800 pro (380/680)

crucial radeon 9800 pro (456/738)

memory:

2x 256mb corsair xms3500 cas2

hard drive:
20gb maxtor diamondmax+
cdrom:
nec 52x cd-rom
floppy:

panasonic 1.44mb floppy drive

heatsink:
avc sunflower
powersupply:
vantec 470w stealth psu
software setup

windowsxp build 2600
intel inf 5.10.1012
catalyst 3.5
detonator 44.03

workstation benchmarks

3dmark2001se
3dmark03
aquamark
codecreatures
commanche 4
gun metal 2
quake iii arena ver 1.17
ut2003

aa test, af and aa+af test
3dmark2001se
quake iii arena
* - 8x agp was enabled and functioning properly during all testing.