Abstract: The Ultra name may be more symbolic than descriptive, but I would expect a little extra performance over stock nForce 2 chipsets at the very least...

Home > Reviews > Motherboards > AOpen AK79D-400 Max
Heatsink Clearance, Overclocking and BIOS
Overall AOpen did a pretty good job at clearing the socket area of obstructions. You may have problems fitting the Thermalright SLK-900U because of the way the fins are oriented but the Alpha PAL8045 should fit just fine. As you can see AOpen does include the four necessary mounting holes so you can use those larger more hardcore heatsinks.
pcstats heatsink clearance measurements
top clearance:
9 mm
bottom (cam) clearance:
8 mm
left side (arm) clearance:
32 mm
right side clearance
28 mm
socket mounting holes:
4mm ødia
max. heatsink base dimensions:
~78x116 mm

Note: Approx. measurements are made from the edge of the socket (not the clips) to the closest obstacle taller than the ZIF socket itself.
The socket is 51mm across, and 62mm from top to bottom.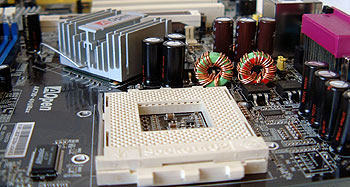 Overclocking:
Because the AOpen AK79D-400 Max is using the new C1 revision of the nForce2 chipset we had some pretty high hopes in terms of overclocking the motherboard. Using an AthlonXP 3000+ processor, I first lowered the multiplier to 8x and slowly began to raise the FSB...
We easily breezed by the 200 MHz mark, but the excitement was cut short at 217 MHz where we ran into a few stability problems.
However, raising the VDD voltage to 1.7V solved those issues. We continued the overclocking journey and at 223 MHz FSB we started to run into memory problems. Lowering the memory timings allowed us to reach higher numbers, but performance was not as good.
With the memory at SPD we could hit a nice 234 MHz FSB while maintaining 100% stability - however because of the lower timings performance was about the same as 223MHz FSB with tighter timings.
Checking out the BIOS: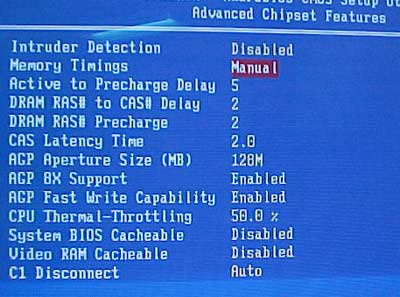 There are the usual memory tweaks we'd come to expect from a mainstream/performance motherboard. Note there is a new option C1 Disconnect, I'm not exactly sure what it does but with C1 based nForce2 Northbridges it's recommended that you set that to enable. On earlier A1 and A2 nForce2 chipsets the correct setting is disable .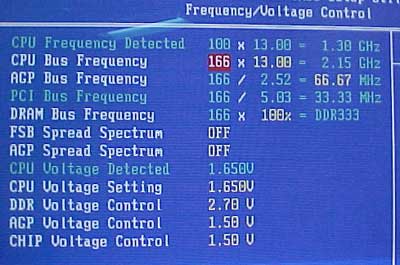 AOpen allows you to adjust the FSB from 100-255MHz in 1 MHz increments. Maximum CPU voltage is 1.85V, DDR voltage 2.8V, AGP volt 1.8V and Chip (VDD) 1.7V. Up next, the benchmarks you've been waiting for!