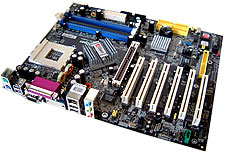 AOpen's last dance with the ever reliable AthlonXP processor is a very good one. With a retail price of just $153 CDN ($110 US) the AOpen AK79D-400 Max is a worthy replacement for whatever you have (assuming it's pre nForce2).
Performance of the motherboard was as expected; in the office based benchmarks it was faster than our reference Epox 8RGA+ and just slightly slower in the 3D benchmarks, although I don't think you'll notice the difference.
The Aopen AK79D-400 Max is fairly well equipped with Serial ATA/Serial ATA RAID, an additional Ultra/133 IDE channel, IEEE 1394, 10/100 LAN, nVIDIA SoundStorm 5.1 audio and dual BIOS's. The five PCI slots should keep you satisfied in terms of future expansion.
AOpen did a lot of things right with their AK79D-400 Max and packaging. The board is well laid out and very detailed. You will most likely not have to refer to the manual when you're installing the board into a chassis and hooking up the connectors. Should you take a peek at the manual you find a very detailed document which is easy to understand. Novice users will certainly appreciate the big glossary of terms at the back.
I'm not sure why AOpen decided to go with a passive cooler for their nForce2 Northbridge. As mentioned above, this is a bit counter productive as their older AK79G-Max had an active cooler on the Northbridge.
Even though AOpen motherboards are not known for their overclockability like brands such as Epox or Abit, we had quite a bit of luck with the AK79D-400 Max. While maintaining the most aggressive memory timings we were able to hit a nice 223 MHz FSB. Lowering the memory timings gave us a result of 234 MHz!
The AOpen AK79D-400 Max motherboard is good for those who want a no hassle name brand mobo. Simply put, it does everything pretty darn well.
Rear this and many other reviews by joining the Weekly PCstats.com Newsletter today!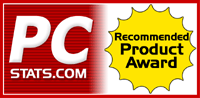 Related Articles

Here are a few other articles that you might enjoy as well...

2.