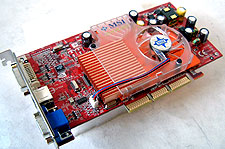 While the MSI FX5600-VTDR128 came in last in almost all the benchmarks, it performed relatively well for a budget oriented videocard. Of course with a retail price of only $235 CDN ($167 US) you can't really expect the card to perform at the same level of those $500+ videocards.

MSI have bundled quite a bit of "extra's" with the FX5600-VTDR128 videocard which add to its usefulness. There are three full version games, some useful utilities and even a remote control! The card is fully VIVO compatible so if you want to edit those family video's on the computer, you can use the FX5600-VTDR128 to output/input the picture.

It's nice to see that MSI is spending some time to design quieter heatsinks to help keep the card cooler. The fan used on this videcard is nearly silent and could only be heard when we put our ear right next to the videocard. Our particular videocard was a decent overclocker and was able to hit 366 MHz core speed and 631 MHz memory.

If you're looking for a new mainstream videocard I'd still have to recommend one get something based on the Radeon 9600 VPU as it is faster and videocards based on it are sold for about the same price. If you can find the MSI FX5600-VTDR128 inexpensively though, it's a good investment.

Find out about this and many other reviews by joining the Weekly PCstats.com Newsletter today!

Related Articles

Here are a few other articles that you might enjoy as well...

2.