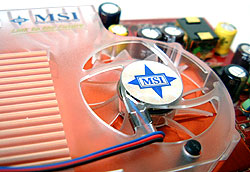 Because we've had a bit of luck overclocking FX 5600 based videocards in the past we were expecting decent numbers from the MSI FX5600-VTDR128 as well.
Slowly we began to raise the GPU speed starting from 325MHz. 330MHz, 340MHz, and 350MHz came and went quite easily. At around 370 MHz we began to notice the card would start showing artifacts during 3DMark2001 so we lowered the core speed a little. In the end we settled for a nice 366 MHz core speed.
The memory was a decent overclocker as well. Staring at 550 MHz we began to raise the memory speed... The 600 MHz mark came and went quite easily as did 625 MHz. Once past the 630 MHz mark though we began to see a few problems. We were able to squeeze a maximum of 631 MHz out of the memory before it would start seeing artifacts.
366/631 is a pretty decent overclock for a budget videocard, and as you'll see they do boost the benchmark numbers nicely.
pcstats test system specs:

computer hardware:

processor:

pentium 4 2.8 ghz

clock speed:

21 x 133 mhz = 2.8 ghz

motherboards:

msi gnb max-fisr*

chipsets:

e7205

videocard:

ati radeon 9800 pro (380/680)
ati radeon 9700 pro (325/620)
albatron geforcefx 5900pv (400/850)
msi g4ti4600-td (300/650)
gigabyte radeon 9600 pro (400/600)
albatron geforcefx 5600p turbo (325/600)
msi fx5600-vtdr128 (325/550)

msi fx5600-vtdr128 (366/631)

memory:

2x 256mb corsair xms3500 cas2

hard drive:
40gb wd special ed.
cdrom:
nec 52x cd-rom
floppy:

panasonic 1.44mb floppy drive

heatsink:
avc sunflower
powersupply:
vantec 470w stealth psu
software setup

windowsxp build 2600
intel inf 5.10.1012
catalyst 3.5
detonator 44.03

workstation benchmarks

3dmark2001se
3dmark03
aquamark
codecreatures
commanche 4
gun metal 2
quake iii arena ver 1.17
ut2003

aa test, af and aa+af test
3dmark2001se
quake iii arena