Abstract: The 400W Super Silencer SS-400AGX Active PFC is one of Seasonic's first foray's into the retail market, and the power supply we will be examining today.

Home > Reviews > Power Supply > Seasonic SS-400AGX
Testing and Final Words
pcstats test system specs:

computer hardware:

processor:

pentium 4 2.8b

clock speed:

21 x 133 mhz = 2.8 ghz

motherboards:

msi gnb max

chipsets:

e7205

videocard:

nvidia geforcefx 5900 ultra

memory:

2x 256mb corsair xms3500 cas2

hard drive:
40gb maxtor diamondmax+
cdrom:
nec 52x cd-rom
floppy:

panasonic 1.44mb floppy drive

heatsink:
avc sunflower
powersupply:
seasonic ss-400agx
software setup
windowsxp build 2600
intel inf 5.00.1012
detonator 44.03
Listed Voltages
AMP
Lower Voltage
Upper Voltage
Jitter
+3.3V
28A
3.25V
3.32v
0.08v
+5.0V
30A
4.97V
5.0V
0.03v
+12V
22A
11.85V
12.04V
0.19v
-12V
0.8A
12.36V
12.44V
0.08v
-5.0V
N/A
0V
0V
0.00v
+5.0Vsb
2A
4.94V
5.00V
0.06v
Overall the voltages are acceptable; the 3.3V and 5V lines are very healthy and do not vary too much. The 12V line dips on the low side at 11.85V, though the nVIDIA GeForceFX 5900 Ultra we used in the test system is a power hog. Do not be alarmed that there is no -5.0V rail on the Seasonic power supply. There are no devices that use the -5.0V rail anymore so it makes sense for them to remove it altogether.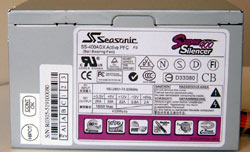 These days the need for a good power supply is more important than ever; you can no longer get by with something generic if you plan to run a mainstream/high end computer system. Unfortunately most people often take their power supplies for granted and that's why you'll always find at least one power related thread computer help forums.
Seasonic does many of the little things right. First and foremost, they include split wire loom, a holding bracket and small zip ties. This will certainly help you keep the inside of your case clean! Next the SuperRed CHA8012CB-A 80m fan at default is absolutely silent (and the power supply lives up to its name). Considering how loud components have become, this is a very welcome change. Also to help reduce vibrations Seasonic places rubber spacers between the power supply casing and the fan!
Like everything else in life you get what you pay for and you should definitely not skimp on the power supply. For enthusiasts the tolerances are a little tighter, and this model didn't quite meet those expectations. I guess it always boils down to performance and here the Seasonic Super Silencer SS400-AGX only receives a good grade. The 12V rail dips low, but luckily enough this does not seem to affect stability of the system. Perhaps a quality 400W power supply is not enough when you're running a GeForceFX 5900 Ultra!
Seasonic's Super Silencer SS400-AGX Active PFC power supply tested very well. With a retail price of approximately $127 CDN ($99 US), the SS400-AGX is a bit on the pricey side though. Still when you look at the competition out there, I'd gladly pay a bit more for a quiet power supply that delivers the rated power levels to within 3%-5%.
Related Articles
Here are a few other articles that you might enjoy as well...
1. PC Power & Cooling Turbo-Cool 510-PFC Power Supply
2. Antec TruePower 430W Power Supply Review
3. Vantec 470W Stealth Powersupply Review
4. Zalman 300W ZM300A-APF Quiet Power Supply
5. iCute4 420W Aluminum PSU Review