Seasonic Super Silencer SS-400AGX Active PFC Power Supply
---
There seem to more "power related" issues these days than every before. Often times, the problem boils down to the power supply itself, and after switching to something a bit better the problems typically disappear. It suppose it just goes to show that case manufacturers are not always equipping their products with the best power supplies.
Do you have stability problems with your system while it is under load? Does your computer spontaneously reboot for no reason? Have you killed a few pieces of hardware lately? If you answered yes to any one of the above questions your power supply may be the source of all the problems!
Seasonic is not a brand that most computer users will recognize, but they have been producing power supplies since 1975. Until recently Seasonic have been focusing on the OEM market almost exclusively. The 400W Super Silencer SS-400AGX Active PFC is one of Seasonic's first foray's into the retail market, and the power supply we will be examining today.
The Seasonic Super Silencer SS-400AGX Active PFC PSU is not much to look at, but then again cheap gimmicks and multiple LED fans don't have much to do with a good power supply do they? Instead of bells and whistles, Seasonic have tried to build on quality and innovation to attract their potential customers. How the SS-400AGX performs will be the acid test of these decidedly marketing department phrases.
With a retail price of $127 CDN ($99 US) the 400W Seasonic Super Silencer SS-400AGX Active PFC PSU is priced a bit higher then some of the better known brands such as Enermax, Vantec and Antec.
Please remember though that the Seasonic Super Silencer is a more advanced power supply because it has Active Power Factor Correction. APFC is why there is no need for a 115/220V switch.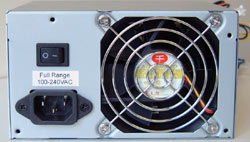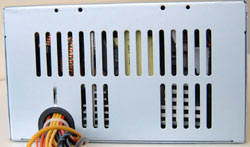 The SS-400AGX PSU is rated to deliver 400W of sustained power (450W peak). The +3.3V line can provide up to 28 Amps, the +5V line 30 Amps (and have a combined output of 180W) and the +12V 22 Amps.
The SS-400AGX has the usual 20 pin main ATX power connector as well as the accompanying ATX12V and Auxiliary lines. There are also a total of eight Molex and two floppy drive power connectors for those of you with lots of devices.