GeIL PC4000 Platinum Series DDR Memory Review
---
GeIL have certainly taken the computer enthusiast market by storm; a relatively unknown company, their memory has caught on so quickly that it rivals the memory big boys like Corsair, Mushkin, or Kingston now a days! In the past GeIL have only done business in Asia, but they're now aggressively trying to break into the lucrative North American/European enthusiast markets. While general markets in the computer industry have been slow, the enthusiasts are still going strong.
There seems to be a growing trend amongst manufacturers to build high speed DRAM with high latencies. While this is not that big a deal for Intel based systems (specifically the 800 MHz based P4's and the i875P/i865PE), it should be clear to AMD users that this memory is not built with them in mind!
I have gotten quite a few e-mails about why I focused more on the Intel side of things with our Corsair TwinX-4000 memory review. The answer to that question is easy; many high speed memory modules coming out today are built more for Intel based systems where bandwidth is king, and latency a far second. On the AMD side of things, because the Athlon processor is not bandwidth dependant, latency impacts performance just as much. In all honesty if you're an AMD'er, you're much better off buying something a bit slower, but with much tighter CAS timings.
Anyway back to the GeIL PC4000 memory! We've had quite a bit of luck with GeIL DIMM's in the past and were hoping for the same from the two 512MB PC4000 Platinum Series memory modules. The memory has a default SPD of 2.5-4-4-7.
Under the Armor: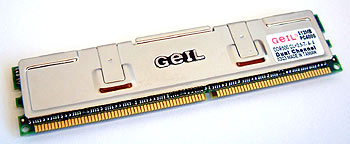 Under the tin-plated copper heat spreaders we find that Geil use 3.5ns DRAM (GL3LC32G88TG-35, sorry no tech doc can be found) TSOP-II DRAM.
The heat spreaders seemed to work pretty well as the memory got quite hot in our Intel test system when we were overclocking.
With our AMD test system we plugged the GeIL PC4000 memory into the DIMM slots and encountered problems right from the get go. It seems like the GeIL PC4000 Platinum Series memory did not like the aggressive settings we were using (2-2-2-5) and would lock up while booting WindowsXP - even if only running at PC3200 DDR memory speeds. Giving the memory more juice did not seem to help as we up'ed the voltage to 2.9V to try and stabilize the system. Lowering the timings to 2-3-3-6 solved all the problems so for this review we ran the memory at 2-3-3-6 instead of our usual 2-2-2-5.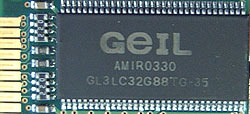 Our overclocking adventure did not go very far and unfortunately we seemed to hit the wall at 215 MHz FSB with the GeIL PC4000 memory which is not very encouraging. I know the motherboard is capable of more as we have tested it up to 230 MHz FSB before... but no matter what we did we could not squeeze anymore performance out of the GEIL PC4000 DDR.
With our Intel test system we ran into the same latency issue we had with our AMD based system. No matter what we did we could not boot the computer while using the aggressive timings of 2-2-2-5. Lowering the timings back to SPD levels (2.5-4-4-7) allowed the system to run flawlessly.
Luckily with our Intel rig we had a lot more success overclocking the memory. Being a bit impatient, I immediately raised the FSB to 250 MHz and while the system POSTed it would not successfully load Windows. Raising the memory voltage to 2.8V solved that problem in a snap; 250 MHz was perfect and we started to raise the FSB a bit more and we were delighted to see that the GeIL PC4000 Platinum memory would do a nice 260 MHz FSB.