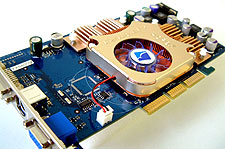 As you can see the new and revised Albatron GeForceFX 5600 Ultra (FX5600U) is quite fast, and often able to give the Radeon 9600 Pro VPU a run for its money. Thanks to the increased clock speeds on both core (400 MHz on the new FX 5600 Ultra's as opposed to 350 MHz on the original) and memory (800 MHz vs 600 MHz), you have yourself a killer mainstream videocard.
With a retail price of $277 CDN ($195 US), the Albatron GeForceFX 5600 Ultra is priced on average. Finding a GeForceFX 5600 Ultra revision 2 based videocard will also be quite difficult as you'll have to remove the HSF to see the core before you find out.
Even though Albatron has not been in the market for too long, it's nice to see they're wining consumers over with quality products rather than with mediocre items at rock-bottom prices. The accompanying software package is a bit thin with only WinDVD, Duke Nukem MP and a five game lite CD; but hey what can we do about this? Albatron include all the necessary cables to take advantage of the TV-Out features but left out the DVI to analog converter.
The new and improved Albatron GeForceFX 5600 Ultra (FX5600U) certainly rocks the mainstream vidoecard world. If you're in the market for one and can find it, you'll certainly be happy with the buy!
Related Articles:
Here are a few other articles that you might enjoy as well...