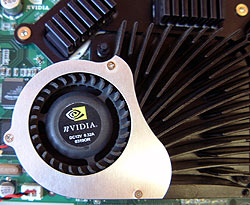 Despite its large size, the black heatsink on the back only cools the memory and does not make contact with the back of the core. This was a bit disappointing but we can understand that with so many resistors on the back it would be difficult to make good contact. nVIDIA uses a rather thick white thermal pad between the memory and the heatsinks while using a pink coloured TIM (which bonded to the aluminum heatspreader of the GPU).
Unlike the FX 5800 Ultra, the HSF on the GeForceFX 5900 Ultra is not very loud. Even in 3D mode with our test system laying out on the table we could barely hear the fan.
Of course when you compare it to the Radeon 9800 Pro HSF (which is quite a bit louder then the Radeon 9700 Pro HSF) it's clearly louder by a bit.
If you're interested to learn a bit more about GeForceFX 5900 Ultra technology or take a look at some image quality shots (compared to an ATi Radeon 9800 Pro) please check out our Albatron GeForceFX 5900PV review.
Please keep in mind that retail GeForceFX 5900 Ultra's do not share the same layout with the reference nVIDIA GeForceFX 5900 Ultra so the overclocking potential of the cards may be different. We included the overclocking section and numbers because it gives good reference.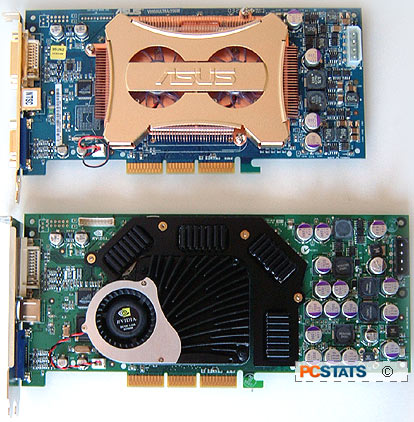 After taking a closer look at the cooling setup on nVIDIA's GeForceFX 5900 Ultra we did not have high hopes in terms of overclocking. I simply don't think it is as good as some of the other coolers we've seen thus far. Starting with the core, we raised its speed slowly, only 5 MHz at a time. 475, 480, 485 MHz came and went by very easily. Amazingly the 500 MHz mark was broken without much effort as well. We settled for a maximum core overclock of 510 MHz; of course that was without overclocking the memory and in the past we have seen that the top speed of both memory and core are a bit lower then when they're overclocked individually.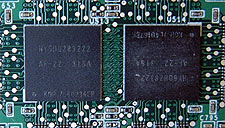 With the memory we went up in larger intervals of 7 MHz at a time (limitation of coolbits). Starting at 850 MHz 900 MHz blew by in a flash as did 925 MHz. Unfortunately the memory did not seem to like going higher then 938 MHz, no matter what we did it would not budge any higher.
Knowing the maximum speed of both core and memory we tried immediately to run them both overclocked at max speeds. While the benchmarks would run, we got a net result that was lower then stock speeds which means the card was too hot and throttling down. After lowering the core speed to 500 MHz, everything was completely stable.