Computex 2003 - AMD Finally Swings the Hammer
---
Taipei, Taiwan in september is a warm and perpetually busy place. Postponed from its original time slot in June, Computex 2003 had easily put SARS behind it and the focus was now turned to providing results. The last year has not been an easy one for the computer industry, and ensuring that 2004 is, belies the point that real jobs are on the line in the computer manufacturers.
Manufacturing is after all is a large component of the Taiwan industry, and in sitting down to talk with several representatives is was reassuring to discover there are indeed some very new, and very cool products on the way to our store shelves.
As you're already aware, the 23rd was the official launch of the AMD Athlon64 3200+ and Athlon64 FX51 processors. These two chips signal a historic change in the world of microprocessing - the switch from 32-bit computers and software to 64-bit.
AMD packed the 7th floor hall of Taipei's NewYork NewYork shopping complex which is adjacent to the Taipei World Trade Center that houses the three Computex buildings. Computex has grown significantly over the last two years, and is now widely regarded as the replacement for Comdex, which has become increasingly diminished since 2001. This year, Computex is experiencing one of the largest numbers of both attendees and exhibitors, and that means PCstats will have lots for you to check out.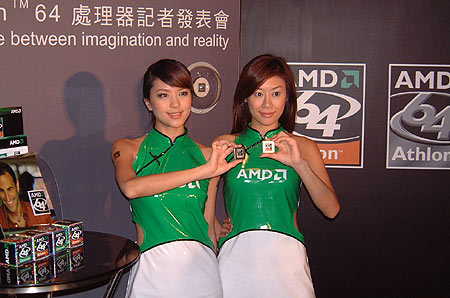 As the press milled about with their translators waiting for the AMD Athlon64 launch to begin, two AMD models gracefully showed off the tiny processors that have come to represent salvation for a chip manufacturer that posted nearly $900Million in losses in the earlier part of 2003. Also on display where a plethora of motherboards and a few small form factor Athlon64 computers from Fujitsu, and other OEM manufacturers.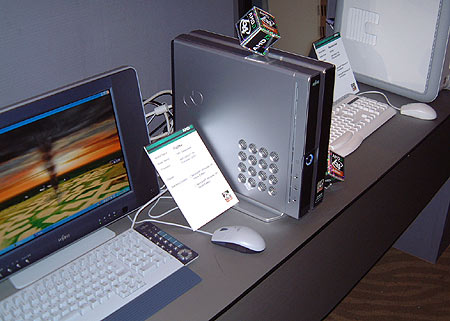 Already the lifespan of the newborn socket 940 Athlon64 FX51 is in question, as there have been announcements of a socket 940 Athlon64 FX chip in the very near future; perhaps ready in time for the onslaught of DDR2-667 or DDR2-800 for the Intel Pentium 4 in Q1 2004 and Q3 2004 respectively. It would seem to be the case, especially if we consider that SIS have road mapped the SIS756 chipset for the socket 939 Athlon64 FX for March 2004. The SIS 756 will support PCI Express x16, and a 1GHz FSB (2000MT/s).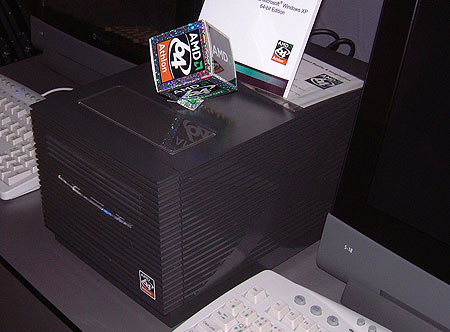 As AMD's KJ Chou hammered on the competition (meaning Intel) for much of his speech; discussing how AMD's focus is now geared towards promoting digital content, gamers, PC entertainment and the like for both desktop and notebook environments a few things became clearer. The Athlon64, for all its wondrous technology (and it is both an impressive, and powerfull processor), is in the position of having to create a market for itself while lacking some of the key components that would otherwise have had it satisfying true consumer demand.