Computex 2003 - Most Athlon64 Motherboards Likely Delayed
---
While plenty of Athlon64 motherboards were on display, many are unlikely to hit store shelves until late in 2003, when A64 chip supplies improve.
Which should come first, the Athlon64 motherboard or the Athlon64 processor? The answer depends on who you ask; ask AMD and they'll say the chip, ask motherboard manufacturers and they'll say the chip.... wait, did I get that right?
In spite of all the glory AMD are now reveling in having produced the world's first desktop 64-bit processor, until January 2004 arrives, it is going to be darn difficult for consumers to actually purchase an Athlon 64 processor by the sound of it.
Consequently, while there were dozens and dozens of Athlon64 motherboards in both the Socket 754 and Socket 940 flavor on display at Computex 2003, things were not as they looked. Manufacturers it seems, are very hesitant to begin production of Athlon64 mainboards until AMD takes the bull by the horns and the limited Athlon64 supply problem is fully remedied.
That means, until you can walk into the 7-11 equivalent of a computer store and buy an Athlon 64 3200+, or Athlon64 FX51 processor, you are unlikely to find a wide variety of Athlon64 motherboards in stock.
Roughly half of the manufacturers showing off their Athlon64 boards told PCstats that they're holding off volume production until late 2003 or January of next year, or until they are sure of the market for the Athlon64. The larger mainboard manufacturers who can handle a luke-warm demand expect their Athlon64 boards to be ready mid-to-late October if they aren't already out now.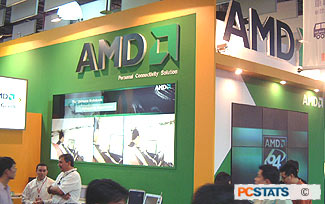 When asked how the AhtlonXP figures into the equation now, Jacky Huang, General Manager of DFI estimated that there was still roughly 6-12 months left in the lifespan of the K7 AthlonXP processor. DFI do not intend to produce any more AthlonXP motherboards, and so to end off the K7-saga with a bang, created the Lanparty NF2 Rev.B Ultra mainboard.
Given the announced transition of the Athlon64 FX processor to Socket 939 formfactor, the lifespan of the Socket 940 Athlon64 FX series is as unclear as it is confusing to observers. AMD have stated they will continue to support the formfactor late into 2004, though it will be replaced by the Socket 939 Athlon64 FX as early as the first quarter of 2004.
Manufacturers producing Athlon64 motherboards may have as many as three or four variants for the Socket 754 Athlon64 processor, but when it came to the Athlon64 FX chips, there was rarely more than one or two boards on display - unless they were intended for purely sever applications. SiS have already confirmed with PCstats that they intend to release the SIS756 chipset in March of 2004 to support the Socket 939 Athlon64 FX processors which are anticipated to be available then. SIS only have one more chipset, the SIS760, planned for the Athlon64 FX 940-pin version.
When it comes to the question of whether to go Athlon64 FX (socket 940) or Athlon64 3200+ (socket 754), one Gigabyte rep PCstats spoke with figures the socket 754 Athlon64 3200+ path is a better route to go even though the FX-series packs in about 10-15% more performance right now. The reason sits with the Athlon64 FX's requirement for Registered DDR memory, which is more expensive and at the moment difficult to find in PC3200 speeds. In any event, roadmaps can change, and have on frequent occassions.
Given the excitement which has maintained itself surrounding the Athlon64 launch, PCstats has compiled a comprehensive assortment of the many Athlon64 motherboards from over a dozen different manufacturers; and here they are... 44 Athlon 64 motherboards!