Now examine the results for IP addresses generated by the port scanning, and computers that do not fit your notes.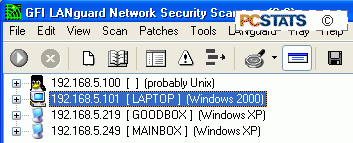 The 'net view' command can be used to locate computers within the same workgroup as the computer the command is run on. A workgroup is a simple logical grouping of computers used by Windows. All Windows systems belong to the 'workgroup' workgroup by default, so the 'net view' command can be very useful in finding out which computers are currently attached to the network.
To use net view: Open the command prompt (start/run/'cmd'). At the prompt, type 'net view'

This will bring up the names of all computers attached to the network that belong to the same workgroup as your system.
If your PC belongs to a different workgroup, you can change the net view command to search for computers in other workgroups by typing Net 'view /domain:(the workgroup name you wish to search)'. Scanning, as mentioned above, is a more reliable method than net view however.
The Airsnare program is another excellent wireless (and wired) intrusion detection program offered as freeware at this site. It can be rather complicated to set up though, so we will not cover it further in this article. Instructions can be found on the website for its use.
Checking your router logs and connections
This is an important step, but difficult to detail since it really depends on your hardware. Most home routers will keep some sort of log file of recent connections and connection attempts. Some will also log common 'bad' or unwanted Internet traffic such as someone attempting to use a port scanner against your router's IP address.
Routers will also generally keep a list of the systems they have given IP addresses to, which would indicate whether you have any unwanted guests on your network.