An excellent preventative measure for securing individual computers on your network is to use a personal firewall such as Zone Lab's Zonealarm, or the software firewall built into Windows XP. For more information on firewalls, see PCSTATS' Firewall Guide here.
Unlike the firewalls present on most wireless cable/DSL routers, a personal firewall does not protect the entire network; rather it runs as software on individual computers and prevents unauthorized data going into or even out of each system.
By securing your computers in this way, you can ensure that your data cannot easily be accessed, even from within your network. Both Zonealarm and the Windows XP firewall block all access to shared folders once activated with the default settings. Zonealarm has the advantage of being rather easier to configure, and blocking unauthorized traffic from inside your computer as well as from outside, while the XP firewall has the advantage of being included in the operating system.
Both are equally effective at preventing outside access to your files. For your peace of mind, our recommendation would be to use one of these two products to secure each of your computers, and if you wish to allow access to your shared folders, simply disable the firewall briefly, the reactivate it when access is no longer necessary.
To use the Windows XP firewall, go to 'start/control panel/network and Internet connections/network connections' then right click on your Internet connection and select 'properties.'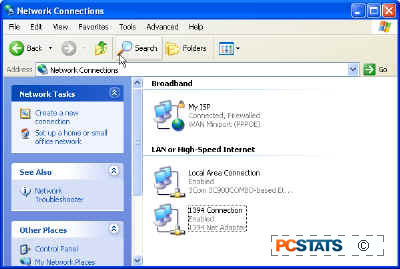 Go to the 'advanced' tab and check the 'internet connection firewall' box.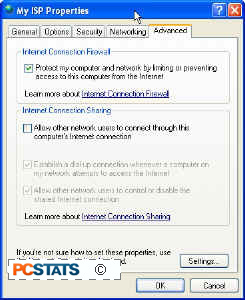 The Windows XP firewall is now protecting your system. For additional information on configuring the firewall, see PCSTATS' Firewall Guide. To disable the firewall, simply repeat the instructions and uncheck the box.
If your PC has WindowsXP Service Pack 2 installed, the firewall should be enabled by default. To check that this is so, go to 'start\control panel\windows firewall.'
Next up, a look at a personal firewall program called Zonealarm.