The Asus A9600XT is basically based on the reference design ATI Radeon A9600XT, and so there appear to only be a few changes from the 9600 Pro layout. The GPU heatsink is quite large, and the fan is very quiet thankfully. To the right of the A9600XT core Asus has their name cut out from the aluminum - I must say it does look pretty cool.
While the BGA memory doesn't really require any form of cooling, Asus do attempt to cool it with the main GPU heatsink. To help thermal transfer, some frag tape is used to bridge the gaps between DRAM and aluminum. I tend to prefer white thermal compound instead, however. Interestingly enough, the memory on the rear of the card is left to fend for itself...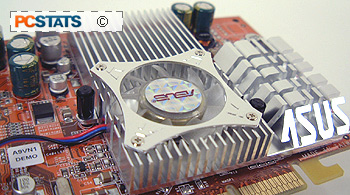 Please note that the Asus Radeon A9600XT only works in 4x AGP or higher motherboards (no 2x AGP key) so when you'd better make sure you motherboard is compatible with the card before you buy!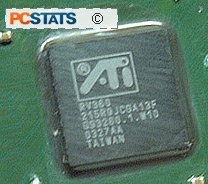 The ATI Radeon A9600XT core does not have a shim around it to protect the die from chipping, so Asus place a thin plastic film on top of the organic BGA packaging (removed for photos in this review). I suppose this also protects the many resistors on top from possible damage should you like to remove your videocard's heatsink and try out several after market versions.
The mounting holes around the core are the same distance as on the ones found on the GeForce2/3 and Radeon 9700/9800 videocards, so you should be able to mount those popular third party GPU coolers easily.
One trend that has been gaining popularity among manufacturers are improved software bundles. We were glad to see that Asus was able to bundle two full version games, Battle Engine Aquaila and Gun Metal. Asus also threw in a coupon that allows the end user to download a full version of the upcoming Half Life 2! That software alone is probably worth $120 CDN if you were to buy it retail.
One of the coolest features of the Asus Radeon A9600XT is not even a hardware feature at all, it's Asus' awesome Smart Doctor 2 videocard monitoring software. Smart Doctor2 does not require you to install Asus own driver set to take advantage of the monitoring software...