By combining DirectX8 support with completely new graphics, it continues to provide good overall system benchmarks. 3DMark2001SE has been created in cooperation with the major 3D accelerator and processor manufacturers to provide a reliable set of diagnostic tools. The suite demonstrates 3D gaming performance by using real-world gaming technology to test a system's true performance abilities. Tests include: DirectX8 Vertex Shaders, Pixel Shaders and Point Sprites, DOT3 and Environment Mapped Bump Mapping, support for Full Scene Anti-aliasing and Texture Compression and two game tests using Ipion real-time physics.
Higher numbers denote better performance.
3DMark2001SE Benchmark Results with AA + AF
Video Card
3DMarks
Ranking
1.

Crucial Radeon 9600 Pro 2xAA, 8x AF

7946
2.

Crucial Radeon 9600 Pro 4xAA, 16x AF

6409
If you're a causal gamer the Crucial Radeon 9600 Pro will serve you well. If you're more of a hardcore gamer you're going to have to sacrifice a bit of IQ for more speed.
Quake III Arena is a First Person Shooter (FPS) that revolutionized gaming as we know it. Using multiple light sources and having graphics textures that can fill videocards.
Quake III Arena MAX 1024x768 demo001 with AA + AF
Video Card
FPS
Ranking
1.

Crucial Radeon 9600 Pro 2xAA, 8x AF

146.1
2.

Crucial Radeon 9600 Pro 4xAA, 16x AF

118.5
2xAA + 8x AF might be acceptable for gamers.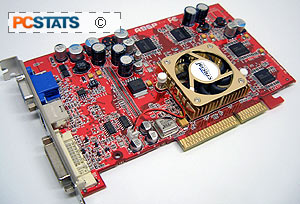 I don't know what gives videocards their "sex appeal" but they're certainly the most exciting piece of hardware you're going to be buying for your computer.

Overall I'd say Crucial did a good job with their Radeon 9600 Pro videocard. It's not the fastest card we've ever tested but then again it's not equipped to be. With a retail price of $230 CDN ($175 US), the Crucial Radeon 9600 Pro is priced just under that of the Radeon 9600XT cards and is about average for Radeon 9600 Pro class cards.

The bundle is rather thin with only WinDVD, but it does ship with all the necessary cables to take advantage of the card's VIVO capabilities... and there's also a DVI to analog converter. Of course, another selling point of the card is Crucial's legendary service record. If you say you don't care about customer service, or don't need it, just remember that when something cheap you've bought kicks the bucket!

Performance of the Crucial Radeon 9600 Pro was pretty good, it could handle all the applications we threw at it at 1024x768, sometimes we could even use AA and/or AF! The card didn't really excel at overclocking, hitting 506/315MHz, but I doubt most consumers would really worry about that anyway.

Crucial are aiming to provide the casual and mainstream gamer a trouble free videocard at a pretty reasonable price. If that sounds like something you've been looking out for, the Crucial Radeon 9600 Pro videocard is perfect for you. If you still need something with a bit more power, you can always look towards some of their other Radeon videocards.

Find out about this and many other reviews by joining the Weekly PCstats.com Newsletter today!

Related Articles

Here are a few other articles that you might enjoy as well...

2.