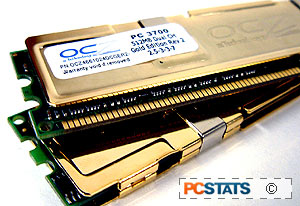 Because our regular Pentium 4 memory testing equipment was not available for this review, we tested the PC3700 DDR on a Pentium 4 3.0C platform which is somewhat restrained in the overclocking arena.
Sticking the OCZ PC3700 DDR memory into the Albatron PX875P Pro motherboard we first tightened the timings all the way to 2-2-2-5, but unfortunately the memory wouldn't take that. After a bit of tinkering we were able to get the memory to run at 2-2-3-6 at stock speeds which is pretty good for high speed DIMM's.
We abandoned the thought of running tight timings after playing with different settings for a while since the highest we run the memory at CAS2 was a mere 210 MHz. At SPD (2.5-4-4-7) the memory was much more friendly, and we could finally start to push it. Amazingly, we were able to hit 230 MHz FSB with no problems, and did not have to increase the voltage past 2.7V! Unfortunately we could go no further. I'll update this review a bit later when the Pentium 4 2.4C test system is available once more.
While Athlon64 sales are slowly ramping up, a large percentage of the enthusiast market have already adopted it as their own, and that's why we're now also conducting Athlon64 overclocking tests. Using an Athlon64 3200+ and the Asus K8V-DLX motherboard we were interested in seeing how tight the memory could run at stock speeds. Like the Pentium 4 system, the tightest we could run was also 2-2-3-6, definitely not bad for a high speed DIMM.
Unlike the Pentium 4 system, we had a lot more luck overclocking the OCZ PC3700 DDR with the Athlon64. At 235 MHz, the memory ran into a few stability problems, but upping the DDR voltage to 2.8V solved all those quirks. In the end we hit a very respectable 243 MHz.

PCStats Test System #1 Specs:
processor:

intel pentium 4 3.0c

clock speed:
15 x 200 mhz = 3.0 ghz
15 x 271 mhz = 3.25 ghz
motherboards:

albatron px875p pro

videocard:

ati radeon 9800 pro

memory:

2x 512mb ocz gold rev2 pc3700

hard drive:
40gb western digital special ed
cdrom:
nec 52x cd-rom
powersupply:
vantec 520 stealth
software setup

windowsxp build 2600
intel inf 5.03
catalyst 3.9

workstation benchmarks

sisoft sandra 2003
pcmark2002
3dmark2001se
quake iii arena
ut2003
* - memory was running 2.5-4-4-7
* - memory was running 2-2-3-6.