To apply message rules first open Outlook Express.We need to create a new folder within Outlook Express. Right click on 'local folders' and select 'new folder.' Call the new folder 'spamcan' for now.
Go to 'tools\message rules\mail…' to open the new message rule window.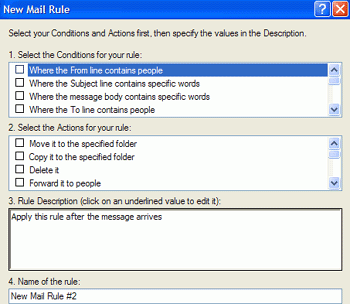 From here, our first step is to choose the 'condition' the thing(s) that we wish to avoid in our email. Simply check the conditions you wish to apply, then specify the exact details in the 'rule description' pane at the bottom.
For example, if you are receiving spam emails with the subject line 'earn $$$ at home,' check the 'where the subject line contains specific words' box, then click the underlined link in the 'rule description' pane.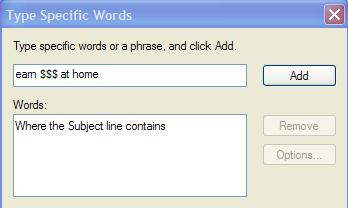 In the 'enter specific words' window, type 'earn $$$ at home' and click 'add,' then 'ok.'
Now we need to specify the action to be taken when Outlook Express finds an email with the condition(s) you specified. As you can see, there are a number of options, including deleting the offending emails automatically. Be cautious with the delete option though, since you could end up destroying useful mail. This is why we created a 'spam' folder so we can funnel our useless messages there to be checked one or twice a month.