With the "GT" moniker attached to the Gigabyte GV-N595U-GT's name we had a hunch that the card would be a good overclocker. With no hardware features separating itself from other GeForceFX 5950 Ultra's, there must be a reason why the card is called the "Performance Edition" by Gigabyte.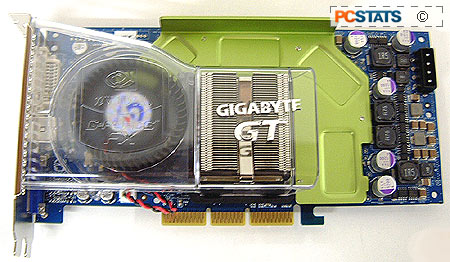 Starting with the core overclocking first, we immediately raised the clock speed from 520 MHz (default) to a nice round 500 MHz. Not too surprisingly the card did that speed without even flinching. After we slowly raised the speed in 5-7 MHz intervals, 545 MHz came and went easily as did 550 MHz. Finally, the GV-N595U-GT settled on a very nice top speed of 578 MHz!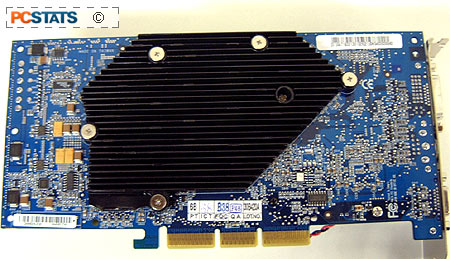 Good speed to be sure, but memory overclocking is where the Gigabyte GV-N595U-GT really comes into its own. Starting at 950 MHz, the 2ns Hynix BGA DDR RAM had no problems hitting 1000 MHz. In fact it reached 1.1 GHz memory speed with no artifacts by the time we were done. Impressive results from the 'GT' edition, but the question still remains, "how with overclocked memory and core work together?"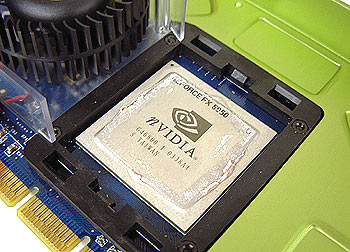 Unfortunately we did not have much success running the core and memory at their maximum overclocked speed together...
In the end we had to lower the speeds to 559 MHz (core) and 1.07 GHz (memory) in order to complete the benchmarks properly. Still that's an awesome overclock from the Gigabyte GV-N595U-GT!
Benchmarks and 3DMark03
We've been a supporter of FutureMark since the days of 3DMark99, but for the time being we have stopped including 3DMark03 in Videocard benchmark suite. It has become clear that recent events have cast so much doubt in the legitimacy of 3DMark03 results that it no longer serves much reference value to our readers. We are aware of FutureMark's Approved Drivers list , but they can be somewhat limiting if newer WHQL drivers are available on the web. If the situation changes we will re-evaluate our position, and reintroduce the benchmark as decided. If you have any questions or concerns, please contact us by e-mail or speak your mind in the PCstats forums.

PCStats Test System Specs:
processor:

intel pentium 4 3.0c

clock speed:
15 x 200 mhz = 3.0 ghz
motherboards:

gigabyte 8knxp, i875p

videocard:

ati radeon 9800xt
ati radeon 9800 pro
ati radeon 9700 pro
asus radeon 9600xt
msi fx5950 ultra-vtd256
msi fx5900u-vtd256
msi fx5900xt-vtd128
gigabyte gv-nv57u128d
gigabyte gv-n595u-gt

memory:

2x 256mb corsair twinx 3200ll

hard drive:
40gb wd special ed
cdrom:
nec 52x cd-rom
powersupply:
vantec stealth 470w
software setup

windowsxp build 2600
intel inf 5.02.1012
catalyst 3.9
detonator 53.03

workstation benchmarks

3dmark2001se
codecreatures
aquamark
aquamark3
gun metal 2
x2 the threat
ut2003

aa test, af and aa+af test
3dmark2001se
x2 the threat
ut2003