Abstract: The GeForceFX 5900XT GPU has basically been equipped with some slower memory, and priced it at about half of what a regular GeForceFX 5900 goes for.


87% Rating:

Home > Reviews > Video Cards > MSI FX5900XT-VTD128
Overclocking Results
MSI uses the "TOP Tech" cooling solution on the FX5900XT-VTD128 which is supposed to keep the NV35 GPU up to eight degrees cooler than the reference cooling solution, all the while producing just 26dB worth of noise. While cannot confirm temperatures, we did notice the card was nearly silent in the 3D benchmarks.
The only way we could hear the videocard was if we put our ear right next to fan, and even then it was very faint. One thing I noticed was, the FX5900XT-VTD128 did not have native hardware monitoring within the Forceware 53.03 drivers, too bad it's a very handy feature.

Unlike the GeForceFX 5700 Ultra class videocards which use DDR2 memory, the FX5900XT-VTD128 uses more affordable Samsung DDR RAM modules (eight 128Mbit 2.8ns, marked K4D263238E-GC2A). The memory is actually the same as that found on most ATi Radeon 9600/9700/9800 based videocards.
Those of you who use dual monitors will be happy to hear that there is a DVI to analog converter included in the FX5900XT-VTD128's package. We were a bit surprised to see that the S-Video and Composite cables were not included. MSI are usually very good at including all the necessities, and I'm sure this is just a one off. Their website says those cables should be included. Next the overclocking results!
Overclocking the Card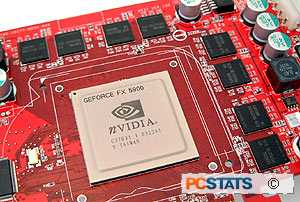 When we first started to play with the MSI FX5900XT-VTD128 we found the core was clocked at 400 MHz, which is the same speed as the regular GeForceFX 5900!
Starting at 400 MHz, I immediately increased the core speed to 450 MHz which is the default clock of the GeForceFX 5900 Ultra. Not surprisingly, the FX5900XT-VTD128 had no problem with that. Next we pushed it to 475 MHz, or stock speed for the GeForceFX 5950 Ultra....
Again this little red card didn't have a problem hitting that mark, not bad at all! After we raised the core speed a few MHz at a time, we finally maxed it out at a very respectable speed of 504 MHz!
Memory Overclocking
Next up was the memory. The memory was already clocked at its theoretical max speed (1000 MHz / 2.8ns x 2 = 714 MHz). I was pretty sure the memory would be good to 760-780 MHz, after all that's what most ATi Radeon 9700/9800 Pro memory mixes out at. Fortunately for us, the memory was up to our overclocking challenge.
Starting at 700 MHz we slowly raised the memory frequency in 5 MHz intervals. Amazingly the card didn't let up, and we ended up hitting a nice high of 809 MHz! I think heat may have been limiting our overclocking as the Samsung DDR BGA memory was measured at approx 57 degrees Celsius with an Omega OS643E-LS Infrared digital thermometer.
I'm happy to say that both the core and memory played nicely together, and as you'll see in the upcoming benchmarks the FX5900XT-VTD128 running at 504 MHz and 809 MHz respectfully really does improve performance!

PCStats Test System Specs:
processor:

intel pentium 4 3.0c

clock speed:
15 x 200 mhz = 3.0 ghz
motherboards:

gigabyte 8knxp, i875p

videocard:

ati radeon 9800xt
ati radeon 9800 pro
ati radeon 9700 pro
asus radeon 9600xt
gigabyte radeon 9600 pro
msi fx5950 ultra-vtd256
msi fx5900u-vtd256
gigabyte gv-nv57u128d
msi fx5900xt-vtd128

memory:

2x 256mb corsair twinx 3200ll

hard drive:
40gb wd special ed
cdrom:
nec 52x cd-rom
powersupply:
vantec stealth 470w
software setup

windowsxp build 2600
intel inf 5.02.1012
catalyst 3.9
detonator 53.03

workstation benchmarks

3dmark2001se
codecreatures
aquamark
aquamark3
gun metal 2
x2 the threat
ut2003

aa test, af and aa+af test
3dmark2001se
x2 the threat
ut2003
benchmarks and 3dmark03
we've been a supporter of FutureMark since the days of 3DMark99, but for the time being we have stopped including 3DMark03 in Videocard benchmark suite. It has become clear that recent events have cast so much doubt in the legitimacy of 3DMark03 results that it no longer serves much reference value to our readers. We are aware of FutureMark's Approved Drivers list, but they can be somewhat limiting if newer WHQL drivers are available on the web. If the situation changes we will re-evaluate our position, and reintroduce the benchmark as decided. If you have any questions or concerns, please contact us by e-mail or speak your mind in the PCstats forums.