By combining DirectX8 support with completely new graphics, it continues to provide good overall system benchmarks. 3DMark2001SE has been created in cooperation with the major 3D accelerator and processor manufacturers to provide a reliable set of diagnostic tools. The suite demonstrates 3D gaming performance by using real-world gaming technology to test a system's true performance abilities. Tests include: DirectX8 Vertex Shaders, Pixel Shaders and Point Sprites, DOT3 and Environment Mapped Bump Mapping, support for Full Scene Anti-aliasing and Texture Compression and two game tests using Ipion real-time physics.
Higher numbers denote better performance.
3DMark2001 - Benchmark Results with AA+AF
Video Card
3DMarks
Ranking
MSI FX5900XT-VTD128 2x AA, 8x AF
12432
MSI FX5900XT-VTD128 4x AA, 8x AF
11374
Those are pretty good scores considering both AA and AF are enabled!
A completely rewritten 3D engine based on DirectX8 encompasses many visual effects such as volumetric Nebulae (gas clouds) that have a real impact in the game (you can hide in them), many new engine, shield, weapon and explosion effects. Objects cast real dynamic 3D shadows! Dynamic DP3 bump mapping allows a previously unseen level of detail.
X2: The Threat - 1024x768-32bit with AF
Video Card
FPS
Ranking

MSI FX5900XT-VTD128 2x AA, 8x AF

92.32

MSI FX5900XT-VTD128 4x AA, 8x AF

85.013
Even with 4xAA and 8xAF enabled X2 plays very well.
Unreal Tournament 2003

Source: Epic
Unreal Tournament 2003 is the sequel to 1999's multiple 'Game of the Year' award winner. It uses the very latest Unreal Engine technology - where graphics, sound and game play are taken beyond the bleeding edge. Unreal Tournament 2003 employs the use of Vertex as well as Pixel Shaders and it's recommended that you use a DirectX 8 videocard to get the most out of the game.
UT2003 - 1024x768 Flyby with AF
Video Card
FPS
Ranking

MSI FX5900XT-VTD128 2x AA, 8x AF

141.3

MSI FX5900XT-VTD128 4x AA, 8x AF

133.19
UT2003 - 1024x768 Botmatch with AF
Video Card
FPS
Ranking

MSI FX5900XT-VTD128 2x AA, 8x AF

80.22

MSI FX5900XT-VTD128 4x AA, 8x AF

79.81
Those number should definitely keep even the most hardcore user happy.
A Fine Comeback!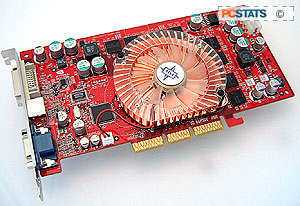 I think it's safe to say that nVIDIA now offers the best mainstream GPU on the market with the GeForceFX 5900XT. In fact, nVIDIA has done such a great job with their mainstream GeForceFX 5900XT that it may even steal a few sales away from the high end GeForceFX 5950 Ultra!
With a retail price around $290 CDN ($220 US), the MSI FX5900XT-VTD128 is in all honesty an absolute steal... and can easily keep the most active gamer out there happy.
At stock speeds the MSI FX5900XT-VTD128 is a solid performer, often running just shy of the ATi Radeon 9800 Pro in almost all the benchmarks. I suspected the card would have some pretty good overclocking potential and it did prove itself; with stock cooling we were able to push this bad boy up to an amazing 508 MHz core, 809 MHz memory. At that speed, the card would constantly battled it out with the ATi Radeon 9800XT and the MSI FX5950 Ultra-VTD256 for top spot overall!
The software package that come with the videocard is pretty impressive with full versions of Morrowind, Ghost Recon, Duke Nukem MP and a seven game demo CD. Of course there's a copy of WinDVD and WinDVD Creator as well as non videocard related utilities in Virtual Drive Pro and RestoreIT! Pro.
Despite all the heat generated by the FX5900XT core, the card was very quiet when installed into a case thanks to MSI's TOP Tech cooling solution. All in all, MSI did a first class job with the FX5900XT-VTD128 and we can easily recommend it to anyone contemplating buying a new 8X AGP videocard. It's powerful and will not break the bank!
Find out about this and many other reviews by joining the Weekly PCstats.com Newsletter today!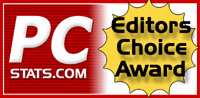 Related Articles

Here are a few other articles that you might enjoy as well...

2.