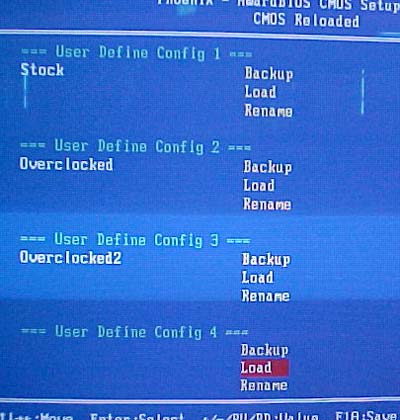 At first I didn't find the CMOS Reloaded feature very useful... but once I started to overclock the system, I could really start to appreciate its usefulness. When one is trying to find the top speed of the motherboard things can get very hectic, and it's easy to forget some settings. That's where CMOS reloaded comes in really handy. Simply save your favorite BIOS settings and load them at a later date when you need to.
It also works really well if you have overclocking settings for gaming, vs. no overclocking settings for general work.
Overclocking the DFI LanParty Pro875B: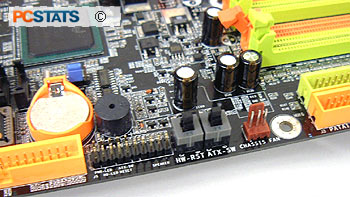 The DFI LANParty NF2 B Ultra was the best overclocking AthlonXP motherboard we've ever tested, so I obviously had some high hopes for the LANParty PRO875B motherboard...
While I know I wouldn't hit 300 MHz FSB with the Intel Pentium4 3.0C as some other sites have when using Pentium4 2.4C processors, but I did expect to hit some pretty high speeds.
Starting at 200 MHz FSB I slowly raised the FSB, but unfortunately for some reason our overclocking adventure did not get very far. At 214 MHz FSB we maxed out, no matter what CPU, DIMM or AGP (chipset) voltages we tried the board simply would not go above that mark. We're not really sure if its the motherboard or processor that's holding us back, but I do believe that retail LANParty PRO875B motherboards will overclock higher as I've seen many boards break 300 MHz FSB.
Up next, the benchmarks you've been waiting for!