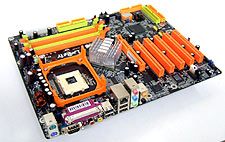 It's quite refreshing to see that a manufacturer try and sell their products based on quality rather than price. While the OEM business is still DFI's bread and butter, they're now pushing very hard to get their name out as an gamer/enthusiast supplier.
The LANParty NF2 Ultra B and the LANParty PRO875B motherboard that we're looking at today shows that DFI intends to go all the way, and they are certainly getting street credibility along the way.
The LANParty PRO875B includes so many extra's that it's a bit on the pricey side, retailing for $235 CDN ($183 US). Still if you're a active gamer with a nice window in your case and want the coolest motherboard around, look no further.
The LANParty PRO875B board is fairly well equipped with an extra IDE RAID controller, 5.1 audio and Intel CSA Gigabit LAN. DFI also include two UV reactive rounded IDE cables as well as a UV reactive rounded floppy drive cable.
Plus, all the sockets and headers on the board are UV-reactive, so with a ultraviolet cold cathode in the case, this baby just lights up like fireworks in the sky!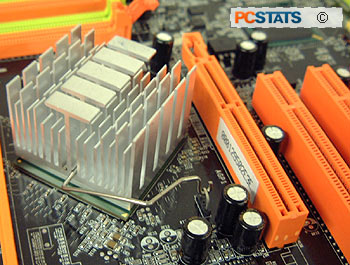 Once you toss in the FrontX front panel audio/USB drive bay, and of course the excellent PC Transpo case carrying strap you can really see that this is the defining board for the LAN gamer.
Performance of the LANParty PRO875B motherboard was excellent, placing at par with the Asus P4C800-DLX and Gigabyte GA-8KNXP boards. Though, for some reason our board couldn't go above 214 MHz FSB overclocked, but I do know others who have gone well past 300 MHz FSB.
There's not much to complain about, I guess the only thing I would have liked was if DFI could somehow place the chipset heatsink a bit further away from the AGP ports so people can use those larger third party videocard heatsinks like the Zalman ZM-HP80C without conflict.
DFI has done an excellent job with their LANParty series of motherboards and now I understand why everyone raves about them so much. Folks, the LANParty PRO875B is an excellent board, and it will keep even the most jaded gamer satisfied with its excellent performance and ultraviolet good looks!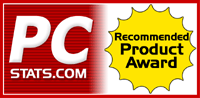 Find out about this and many other reviews by joining the Weekly PCstats.com Newsletter today!
Related Articles
Here are a few other articles that you might enjoy as well...