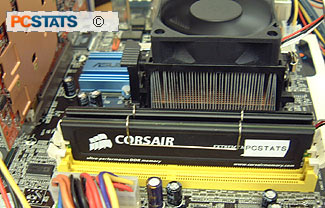 Before you run any of the testing programs below, you should first determine how many memory modules are installed in your system. If you already know this, skip to the next section. Otherwise, open up your computer. Note that name brand computer makers like Dell are rather touchy about having their systems opened by the user while still in warranty.
Keep this in mind, as it's lousy to find out your memory is bad and your warranty is voided at the same time. Once you have the side panel off, take a look inside. Memory modules on recent systems look like this when installed. Note both the number of installed memory modules and the amount of free slots you have.
Once this is done, run one or more of the memory testing applications listed below, then proceed to the troubleshooting section. Incidently, that pair of Corsair memory works just fine, and this picture is just an example of what DDR memory and DIMM slots look like. :-)

Bad Memory Testing:Memtest86+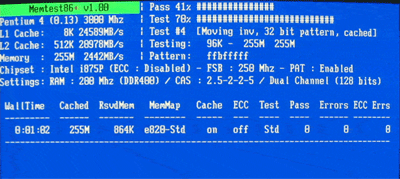 Like the Windows Memory Diagnostic below, this program is available both as a bootable floppy and a CD. This version of the Memtest software also identifies certain characteristics of the system it is running on, like the chipset, CPU type and memory speed.
Memtest86+ has basic and advanced testing modes, differing in the time they take and the thoroughness of the testing. The basic mode should be sufficient to indicate any major problems with your memory.
To use Memtest86+ first download either the pre-compiled floppy disk image or the bootable ISO CD image.
Unzip the downloaded file and create your bootable disk by either running the 'install' program (for the floppy disk image) or creating a CD from the ISO image by using a program like Nero or Easy CD Creator.
Reboot your computer with the floppy or CD in the drive to start the Memtest86+ program. It will automatically begin the basic test. Note the system information displayed to the left of the screen.
The 'c' key will open a menu that allows you to choose between the various test modes. Any errors in your memory will be listed at the bottom of the screen.