Abstract: In this guide, PCSTATS will discuss the common symptoms of faulty memory as well as looking at a handful of free memory testing software programs which can help you diagnose your troubles.

Home > Reviews > Beginners Guides > Beginners Guide PCSTATS
Docmem and Windows Mem Test
Bad Memory Testing: Docmem

Simmtester's Docmem program has been around for a while and is in use at many computer stores and repair shops. It is available free of charge from their website, though it requires a user registration before it can be downloaded.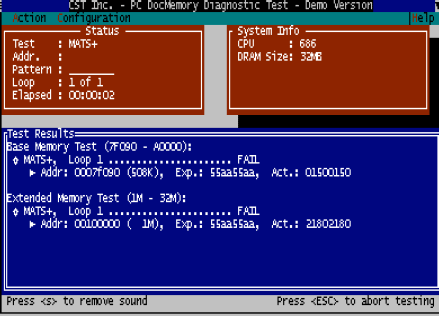 The Docmem program must be installed onto a floppy disk which is then used to boot the system. It offers both a quick memory test and a 'burn in' mode which loops continuously until stopped.
To use Docmem first download and extract the program to a directory, then run the 'install' file which will load the Docmem program onto a floppy disk. Restart your system with the newly created disk in the drive to start Docmem. Choose the 'quick test' option to run the memory diagnostic on your RAM. Any failures in your memory will be indicated at the bottom of the screen.
Bad Memory Testing: Windows memory diagnostic
Microsoft actually offers its own free diagnostic tool in the style of the above two programs. The program comes as a Windows installer file which contains a CD image file for making a bootable CD, and a program to create a bootable floppy.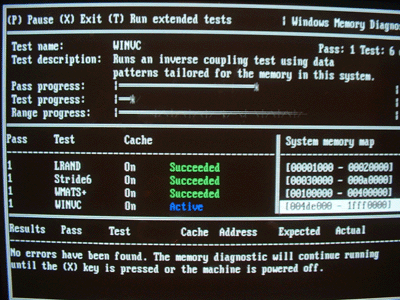 The program is a little more basic than the other two, but still runs through the essential tests, and has an extended test available for burning in your PC. The program can sometimes identify which memory module is the source of problems on a system which has more than one module installed.
To use the Windows Memory Diagnostic first run the executable file and choose either a CD or floppy disk install. If you chose CD, you will be prompted for a location to save a CD image file. Remember the location and use the file to create a CD with Nero or other CD burning programs.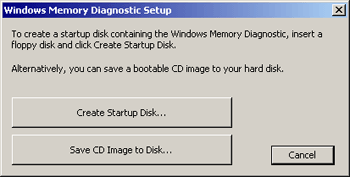 If you choose floppy, simply insert a disk and follow the prompts to create a bootable disk.
Now restart your system with the CD or floppy inserted. The Memory Diagnostic will start up and begin running the basic tests. The program will loop forever unless interrupted with 'x'. Any errors in your memory will be listed at the bottom of the screen.
< Previous Page
© 2022 PCSTATS.com

Please respect the time and effort that went into creating each PCSTATS Beginners Guide, do not illegally copy. Thank you.

Next Page >